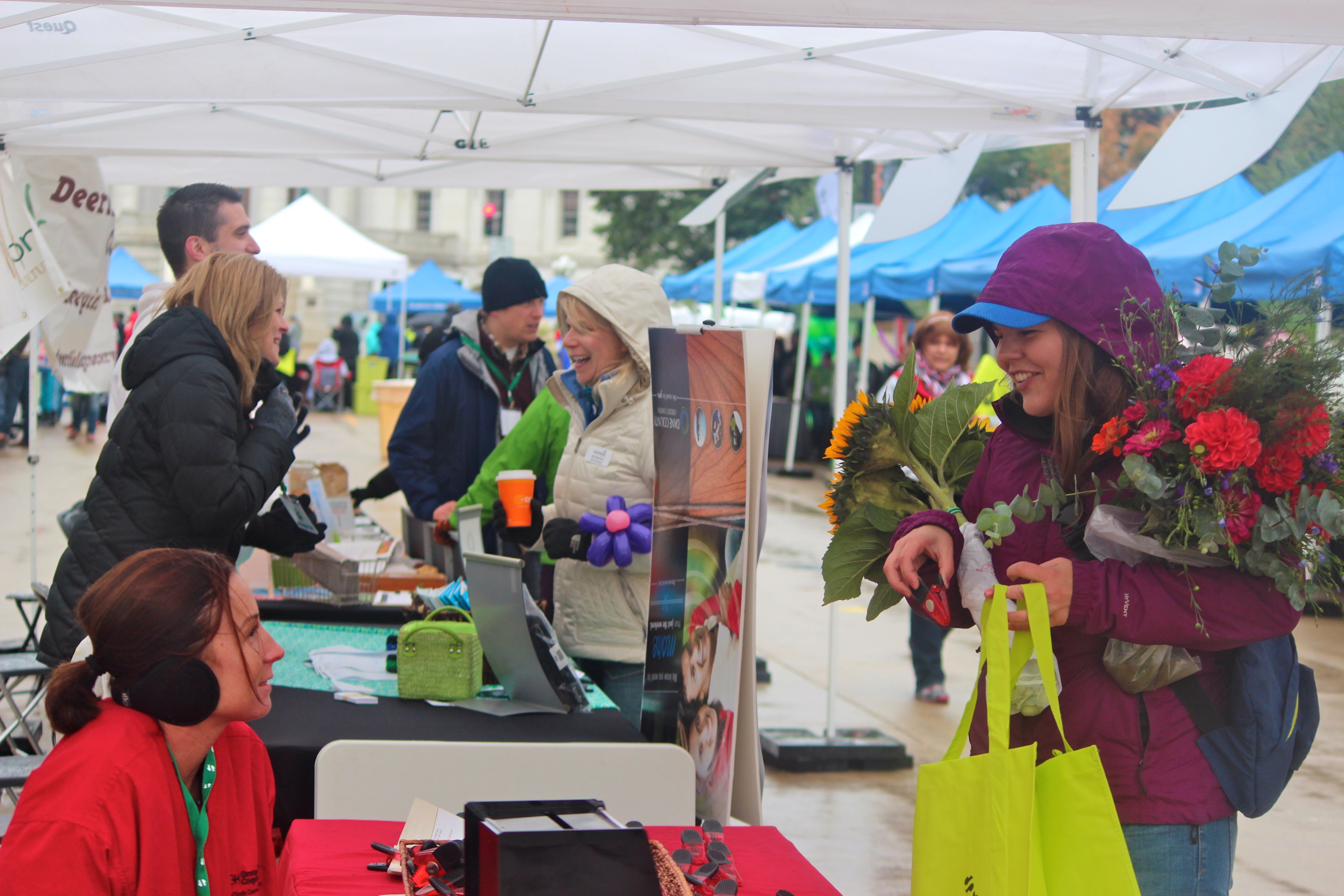 Fourth-Annual 'CO-OP Connection' draws 3,000
Attendance strong despite chilly conditions at Celebration of Cooperatives
MADISON, WI (October 22, 2014) — Despite the chilly weather, nearly 3,000 people attended the fourth-annual Co-op Connection on October 4. Hosted by Summit Credit Union, the free public event kicked off National Co-op Month and celebrates cooperatives and what they contribute to communities.
Summit, together with CUNA, CUNA Mutual Group, Heartland Credit Union, Dane County Credit Union and several area cooperative organizations, sponsored the event, which was based in a sectioned-off area on Martin Luther King Drive next to Madison's famous farmers' market. Attendees were treated to free product samples including cupcakes, gluten-free bars and fair-trade coffee, live demonstrations including martial arts and balloon animals, and live music from local favorite, singer-songwriter Pat McCurdy.
Madison Mayor Paul Soglin also spoke about the big part co-ops play in our local economy and quality of life.
"There are a few things about cooperatives that are very special," said Soglin.  "First, you don't have to worry about somebody buying up a successful one and moving it out of town. Secondly, there's a real commitment to equity and fairness to employees and members. Lastly, when it comes time to help other businesses, we see cooperatives, credit unions and their partners constantly working with one another to ensure a stronger community."
Event sponsors included Summit Credit Union, CUNA Mutual Group, Heartland Credit Union, Dane County Credit Union, Group Health Cooperative, National Cooperative Business Association, Willy Street Co-op, Wisconsin Rx and National Cooperative Rx, Credit Union National Association (CUNA) and UW Center for Cooperatives.  The Cooperative Network also provided planning and volunteer support.
"I was thrilled to see that the chilly weather didn't keep folks from coming out to learn about cooperatives and the value they bring to their communities," said Kim Sponem, CEO/President of Summit Credit Union.  "This is a great event — and it achieved its goal of getting people excited about local cooperatives. We're already planning for next year."
For a complete listing of exhibitors and more information on the Co-op Connection, please visit http://www.summitcreditunion.com/coopconnection.html.
About Summit Credit Union:
Established in 1935, Summit Credit Union is a member-owned financial cooperative open to anyone in Wisconsin. Summit holds $2 billion in assets and has more than 136,000 members with 29 locations throughout the Madison and Milwaukee areas. For more information, visit www.summitcreditunion.com or call 608-243-5000 or 1-800-236-5560.
---