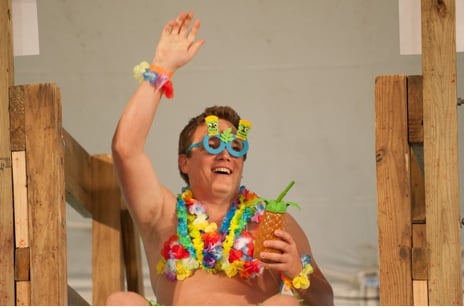 Freedom Credit Union donates to Kids-N-Hope Foundation through 21st Annual Gelatin Olympics!
WARMINSTER, PA (July 3, 2014) — Freedom Credit Union staff showed their generosity and caring spirit by participating in the 21st Annual Gelatin Olympics and donating $700 to the Kids-N-Hope Foundation.
Freedom Senior Network Engineer, Frank Dwyer, dressed as a Hawaiian Hula Dancer, took the ultimate plunge into 700 gallons of strawberry gelatin at the Gelatin Olympics on June 11, 2014 in Northeast Philadelphia.  Dwyer also took home the awards for best costume and top donor, receiving four tickets to Adventure Aquarium, two tickets to a Wings lacrosse game and $25 gift card to sweet Lucy's Smokehouse from American Heritage Federal Credit Union.
All proceeds raised from the Gelatin Olympics went directly to the Kids-N-Hope Foundation to benefit the children at the Children's Seashore House at the Children's Hospital of Philadelphia.
In 1996, the Kids-N-Hope Foundation was formed with the intention of helping children receive specialized care. The first ray of hope the Kids-N-Hope Foundation bestowed upon the Children's Seashore House in Philadelphia was a Music Therapy Program. Music provides these physically challenged children a means of personal and creative expression of emotion and feeling.
The Children's Seashore House is a regional teaching hospital providing specialized care and rehabilitation to children with developmental disabilities and chronic illness. Founded in 1872, the Children's Seashore House is the first hospital of its kind in the nation and the fourth oldest pediatric hospital.
About Freedom Credit Union
Freedom Credit Union, chartered in 1934, is a community-based, full-service financial institution that offers a banking alternative to consumers. Anyone who lives, works, worships, performs volunteer service, or attends school in Bucks, Chester, Delaware, Montgomery, or Philadelphia Counties is eligible to use its services. Freedom Credit Union has over $650 million in assets and more than 62,000 members, operating branch offices in Abington, Lansdale, Philadelphia and Warminster, Pennsylvania.
Like Freedom on Facebook. Follow Freedom on Twitter. Subscribe to Freedom's channel on YouTube.
---