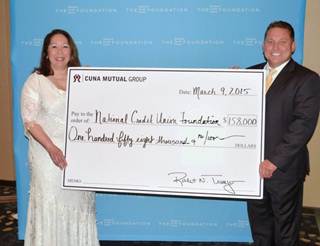 GAC community building: giving back, lending a hand, caring
MADISON, WI (March 13, 2015) — The National Credit Union Foundation (NCUF) embodies the spirit of credit unions through its efforts to strengthen and develop the credit union movement. As the movement's charitable arm, the NCUF funds industry-wide development initiatives, including:
· Financial education to consumers of all ages;
· Disaster assistance;
· Greater access to affordable financial services; and
· Helping empower consumers to save, build assets, and own homes.
Donations to the Foundation enable credit unions to help their members reach life-changing goals and achieve financial freedom.
"The NCUF is a catalyst to improve people's financial lives through credit unions," said Bob Trunzo, President and CEO for CUNA Mutual Group. "The NCUF exemplifies the credit union philosophy and builds upon the mission of the credit union system."
As a proud supporter of the NCUF, CUNA Mutual Group is dedicated to giving back, lending a hand, and building communities through credit unions. In 2015, the company contributed more than $158,000 to the NCUF to support the organization's general fund.
"We're proud of the programs the NCUF puts together, and we want to support them for many, many years to come," said Trunzo.
To learn more about the NCUF visit: https://www.ncuf.coop/
Photo Caption: CUNA Mutual Group's Jeff Bosco, SVP, Wealth Management, presents a check on behalf of CUNA Mutual Group for $158,000 to Laida Garcia, Chairman of the National Credit Union Foundation Board of Directors and President/CEO of Florida Central Credit Union in Tampa, Fla., to support the National Credit Union Foundation's general fund. The check was presented during CUNA's Governmental Affairs Conference.
---