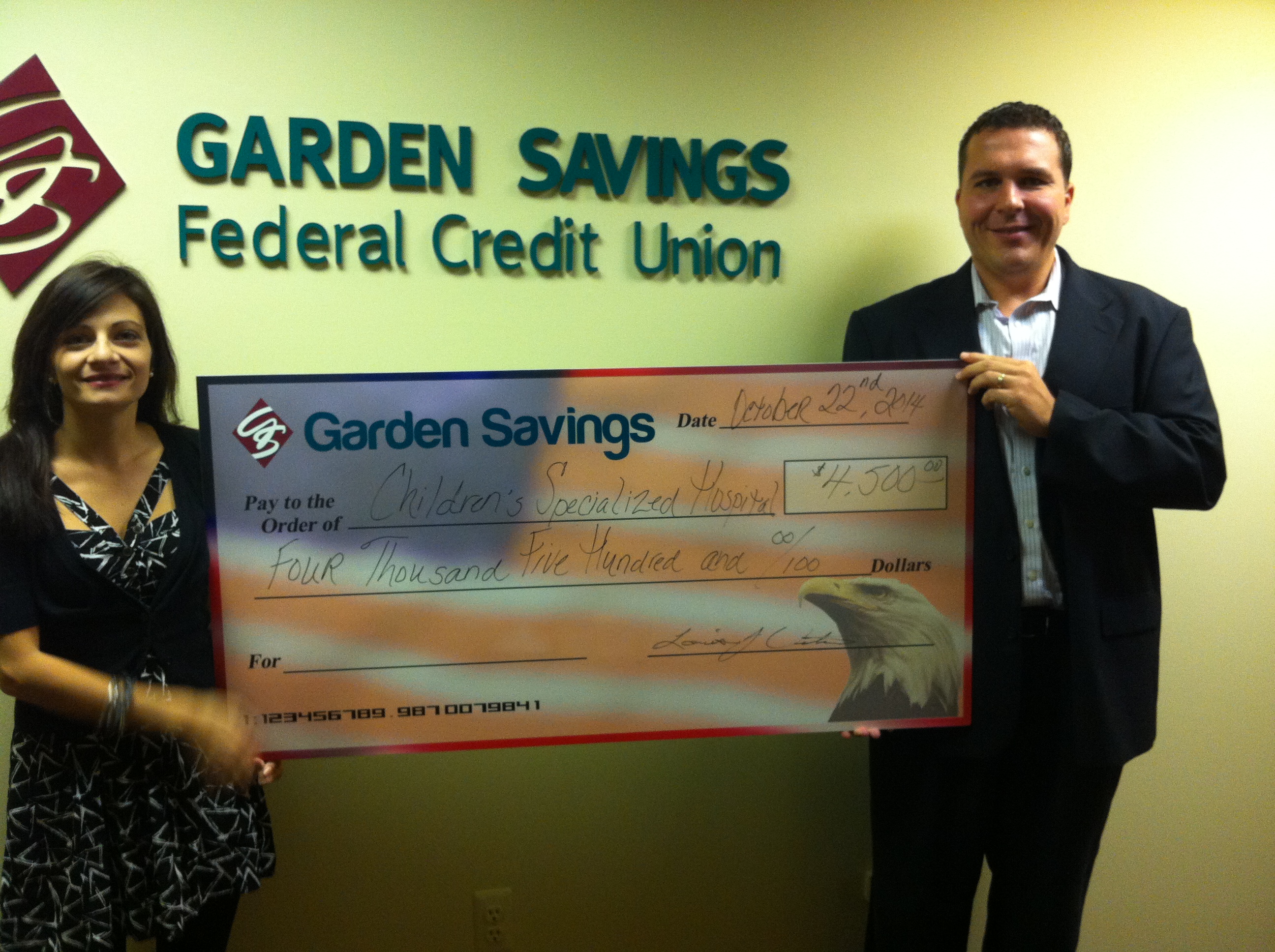 Garden Savings Federal Credit Union raises $4,500 for Children's Specialized Hospital
(October 22, 2014) — Garden Savings Federal Credit Union, headquartered in Parsippany, New Jersey with branches in Dover, Newark and Maplewood, provided Children's Specialized Hospital with a donation of $4,500.  The credit union raises money all year long by encouraging staff members to wear jeans on Fridays in exchange for a $5 monthly contribution that goes to the charitable organization.  The executive team of Garden Savings also participates and provides a $20 monthly contribution.  This was the first time that the credit union ran this program for an entire year and the results yielded $3000 in funds raised by the employees.  Garden Savings matched fifty cents on the dollar to yield the $4,500 contribution.
"Children's Miracle Network and the Children's Specialized Hospital are a remarkable group," said Garden Savings President and CEO, Lou Vetere.  "They are the premier provider of pediatric health care in the United States and it is our privilege to be able to support the work they do.  This organization treats over 20,000 children each year who truly need help and they do a wonderful job of providing them with the best health care possible.  Anyone who has seen their videos or visited the hospital in person can see what a difference that they make in the lives of these children and their families."
The check was presented to Nicole Fulmino of Children's Specialized Hospital.  Garden Savings will continue with their "jeans on Fridays" fundraising efforts throughout 2015.
PICTURED:  Nicole Fulmino of Children's Specialized Hospital is presented with a check for $4500 from Michael Powers, Chief Sales Officer of Garden Savings Federal Credit Union
---