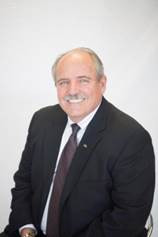 Gary Easterling announces plan to retire as President/CEO at United Federal Credit Union
(April 30, 2015) — United Federal Credit Union (UFCU) announced today that its President/CEO, Mr. Gary Easterling, is planning to retire in late 2015.  In a career that now spans 32 years, Easterling joined UFCU as President/CEO in 2007 after enjoying a variety of senior-level positions elsewhere in the credit union industry.  As part of a detailed plan that has been reviewed and approved by UFCU's Board of Directors, Mr. Easterling will remain at the helm of UFCU until his successor has been identified.
UFCU's Vice Chairman Mr. Mike Hildebrand said, "UFCU's Board is extremely grateful to Gary for the leadership he has provided to the credit union.  Under his leadership, the credit union has made great strides in bringing new services to our Members and in achieving the kind of growth that will ensure the company's stability and soundness for years to come."
Easterling, a native of Fairborn, Ohio, came to UFCU from his former position as President/CEO of Century Federal Credit Union in Cleveland, Ohio.  Easterling's additional experience in the credit union industry includes a variety of leadership positions at Wright-Patt Credit Union in Fairborn, Ohio.  Easterling is a member of the Credit Union Executive Society, Michigan Credit Union League and recently elected to the National Association of Federal Credit Unions' Board of Directors.  He was also named by the Michigan Credit Union League as their 2015 "Credit Union Professional of the Year".  Gary's volunteer activities have included the Harbor Habitat Development Committee, Michigan Credit Union League, Cornerstone Chamber of Commerce, United Way of Southwest Michigan and Michigan's Great Southwest Strategic Leadership Council.  Gary plans to continue to represent the credit union in his current volunteer activities.
Easterling said of his planned departure, "Succession planning for senior roles here at the credit union is a regular, ongoing activity between our leadership team and our Board.  So, it's not unusual for us at UFCU to know years in advance when someone in a Director or Officer position might plan to move on.  By announcing my plans now, I can give our Board the opportunity to seek my successor in a transparent way that provides for the smoothest possible transition."
Hildebrand said, "Gary shared his retirement objectives plans with the Board almost a year ago and so we have been collaborating closely with him on our planning calendar.  This announcement is part of that plan and clears the way for us to move ahead with a selection process that includes current employees of UFCU as well as external candidates.  The Board has retained the services of DDJ Myers, an executive recruitment firm specializing in the credit union industry, to assist us in this process." He added, "The Board has complete confidence in Gary.  His expertise and accomplishments speak for themselves and we will rely heavily on his leadership as we work to find his successor."
---