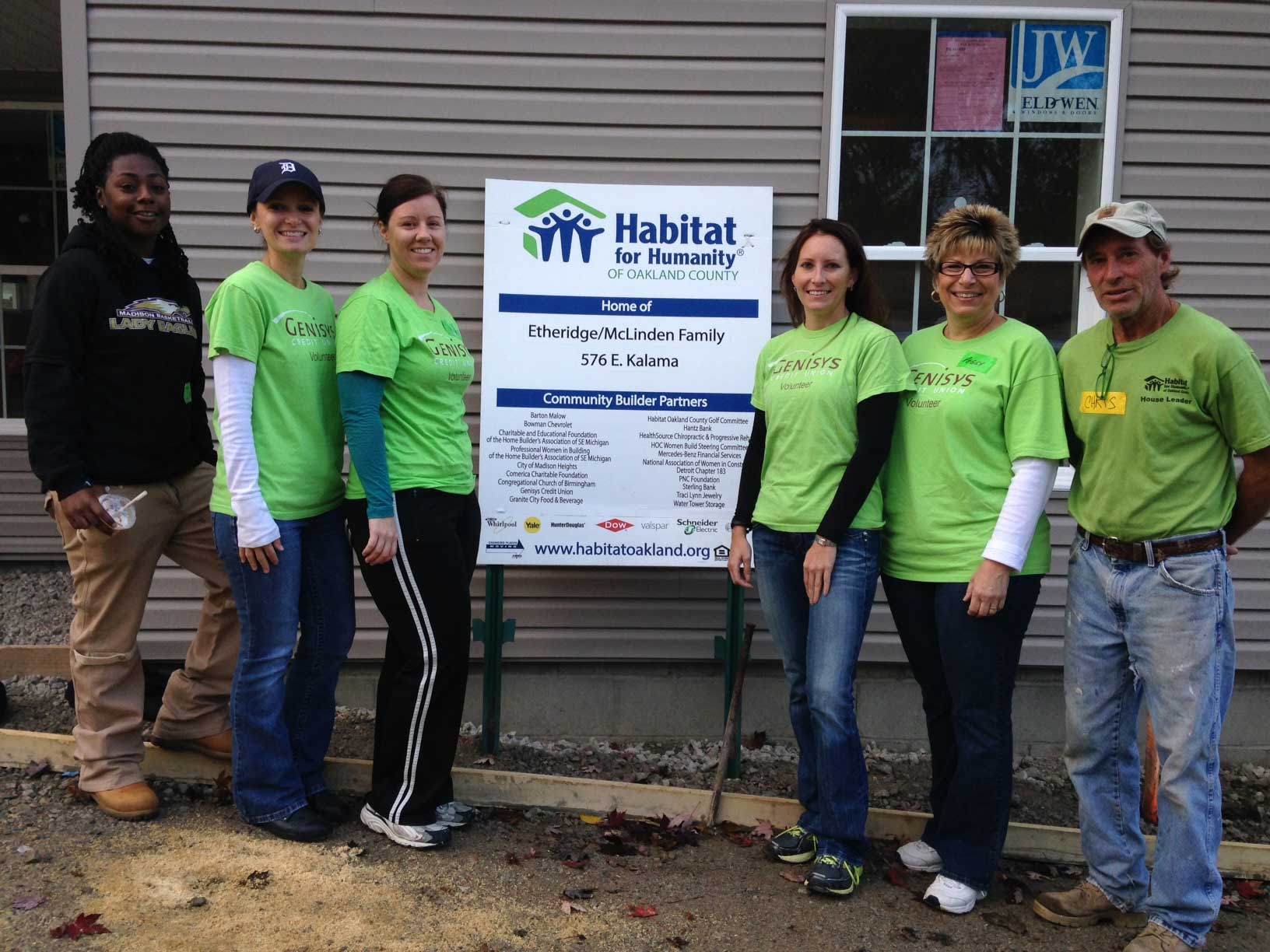 Genisys Credit Union joined Habitat for Humanity for the first Women's Build
AUBURN HILLS, MI (October 21, 2014) – Genisys Credit Union, which provides services to anyone who lives or works in the Lower Peninsula, was proud to sponsor and join Habitat for Humanity of Oakland County for their Women's Build project this past week.
"They had a great time working together to provide a member of our community with a safe and livable home," said Jackie Buchanan, President/CEO. "It's always rewarding to know that we've helped make a difference in someone's life."
Together, Habitat for Humanity and Genisys Credit Union worked to provide a home to a local couple looking to make a fresh start. Future homeowner, Cynthia, has faced Cerebral Palsy, non-progressive movement disorder that causes physical disability, since birth. Due to medical bills and other unfortunate circumstances it has been challenging for Cynthia and her fiancé, Dennis, to afford a barrier free home.
"This Women Build project has been very exciting for Habitat for Humanity of Oakland County as we not only utilized women for 90% of the work done on the home, but also built the home to be ADA compliant to accommodate Cindy's needs, who has cerebral palsy and uses a scooter," stated Kim Howard Manager of Partnerships for Habitat for Humanity of Oakland County. "For the first time in her life she will be able to enter and move about freely in her home. This was a first for us, and the support we received from our sponsors, like Genisys Credit Union, helped us make this dream come true for Cindy and Dennis."
Genisys volunteers helped with a variety of home-building needs including the cutting and installation of molding for all of the rooms as well as painting various areas of the house.
About Genisys Credit Union:
Genisys Credit Union is a not-for-profit, member-owned financial institution that has been committed to helping its members financially since 1936. Based out of Auburn Hills, MI, Genisys is one of the largest credit unions in Michigan, with over 147,000 members and 24 branch locations. They also provide business loans and a range of services for small to mid-sized businesses.  Genisys Credit Union is proud to be making a difference in their communities, and truly believes that Genisys is "where you come first". Connect with Genisys on Facebook and Twitter by following "GenisysCU". For convenient access to your account, download the Genisys iPhone App in the iTunes Store and Android App in the Google Play Store. For more information or a calendar of events, visit Genisys online at www.genisyscu.org.
Photo By Line – Members of the Genisys Credit Union Management Team were eager to Make a Difference in the Community.
---