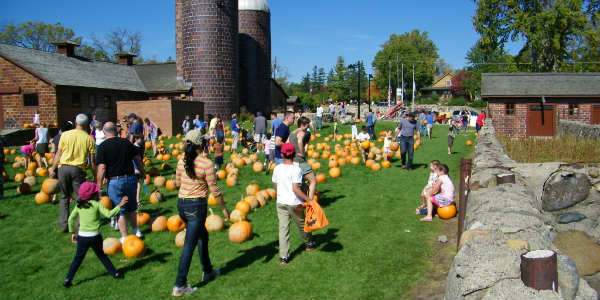 Genisys Joins Community in Carving Pumpkins
ROCHESTER, MI (October 7, 2013) — Genisys Credit Union which provides services to anyone who lives or works in the Lower Peninsula, will continue to make a difference in the Rochester community by serving as the major sponsor for the 13th Annual Stonewall Pumpkin Festival on Saturday, October 12, 2013, at the Rochester Hills Museum at Van Hoosen Farm from 10:00 AM – 4:00 PM & 7:00 PM-9:00 PM.
The event historically attracts over 1,000 people who pick the perfect pumpkin to carve at this nationally registered historic site. Another several hundred people attend later that night for the lighting ceremony to see about 500 pumpkins lit up along the stone walls.
"This is a very unique event that generates autumn excitement for people of all ages," said Jackie Buchanan, President/CEO. "Genisys has been the proud sponsor this event for several years now and it is always exciting to see the creativity of the carving."
The Rochester Hills Museum sponsors a full day of activities regarding a fall theme including pumpkin carving, pumpkin bowling, scarecrows, musical entertainment, book reading, crafts and pioneer games. In the evening, the carved pumpkins are lit and on display for everyone to see. Also, food, winter clothing, and cash donations are collected for the Rochester Neighborhood House.
"Our pumpkin festival is an event that requires community participation to be successful," said Patrick J. McKay, Supervisor of Interpretive Services at Rochester Hills Museum at Van Hoosen Farm. "From 120 volunteers and 1,500 guests to financial sponsors like Genisys Credit Union, they all allow an event like this to take place and to help build community spirit, partnerships and support for our local history museum. The event supports not only the Rochester Hills Museum, but also the Rochester Neighborhood House. Ultimately, the spirit behind the event is Genisys Credit Union."
This is one of the many events throughout the year that Genisys sponsors at the Rochester Hills Museum at Van Hoosen Farm and is the largest event at this site, using 16 acres of grounds. Partnerships with Dinosaur Hill Nature Preserve, Rochester Junior Woman's Club, Woman's National Farm and Garden Club and Paint Creek Center for the Arts will bring added value to the event.
About Genisys Credit Union
Genisys Credit Union is a not-for-profit, member-owned financial institution that has been committed to helping its members financially since 1936. Based out of Auburn Hills, MI, Genisys is one of the largest credit unions in Michigan, with over 138,000 members and 24 branch locations. Anyone who lives or works anywhere in the Lower Peninsula of Michigan can open an account at Genisys Credit Union. They are proud to be making a difference in their communities, and truly believe that Genisys is "where you come first". Connect with Genisys on Facebook and Twitter by following "GenisysCU". For convenient access to your account, download the Genisys iPhone App in the iTunes Store and Android App in the Google Play Store. For more information or a calendar of events, visit Genisys online at www.genisyscu.org.
---