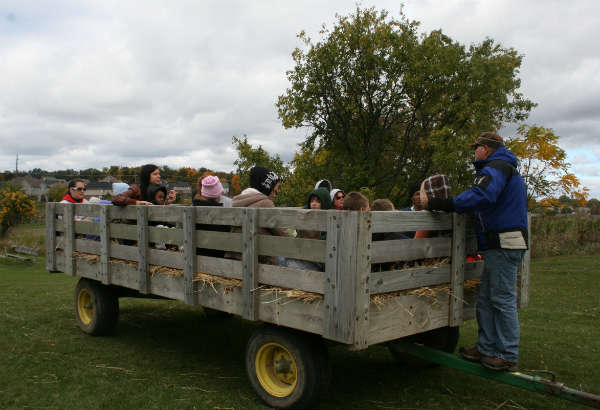 Genisys sponsors Harvest Happening Festival
WATERFORD, MI (September 30, 2013) — Genisys Credit Union, which provides services to anyone who lives or works in the Lower Peninsula, will continue to make a difference in the Waterford Township community by sponsoring the 27th Annual Harvest Happening Festival on October 5, 2013, at historic Hess-Hathaway Park in Waterford from 11:00 AM – 5:00 PM.
"This is a great event for families of all ages," said Lori Soma, Waterford Township's Recreation Supervisor. "We ensure that there are a variety of activities that are either free or offered at a reasonable price."
This year it is expected that about 7,000 people will come out to enjoy the family fun during the fall festival, which features hayrides, farm animals, crafts, Golden Age Club bake sale, and refreshments.
"The festival is filled with a variety of entertainment and is a great way to spend the day," said Jackie Buchanan, President/CEO. "The employees are more than happy to participate in making a difference in the local community and the kids love it."
Pony rides, inflatables, and kiddy rides will also available to the children, along with free face painting sponsored by Genisys.
About Genisys Credit Union
Genisys Credit Union is a not-for-profit, member-owned financial institution that has been committed to helping its members financially since 1936. Based out of Auburn Hills, MI, Genisys is one of the largest credit unions in Michigan, with over 138,000 members and 24 branch locations. Anyone who lives or works anywhere in the Lower Peninsula of Michigan can open an account at Genisys Credit Union. They are proud to be making a difference in their communities, and truly believe that Genisys is "where you come first". Connect with Genisys on Facebook and Twitter by following "GenisysCU". For convenient access to your account, download the Genisys iPhone App in the iTunes Store and Android App in the Google Play Store. For more information or a calendar of events, visit Genisys online at www.genisyscu.org.
Follow genisyscu on Facebook and Twitter to be able to participate in our special contests, promotions and events. Plus, receive financial tips and other helpful information. Check out our Facebook & Twitter page at www.genisyscu.org.
---