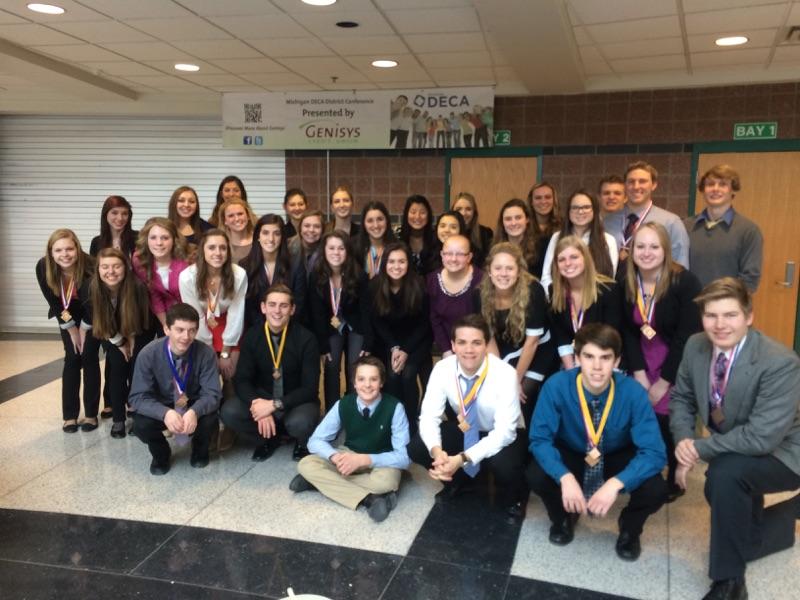 Genisys sponsors local Michigan DECA District Conference
Photo Cut Line: Students who competed in the DECA competition
LAKE ORION, MI (January 27, 2015) — Genisys Credit Union, which provides services to anyone who lives or works in the Lower Peninsula of Michigan, recently partnered with the Michigan DECA club to sponsor their Annual DECA District 7 Career Development Conference, recently held at Lake Orion High School.
Distributive Education Clubs of America (DECA) is a professional level organization for high school students interested in business related fields. The district conference, which serves as the first level of competition, gives students the opportunity to compete in chosen categories and apply their marketing and business related knowledge. Students are able to participate in their chosen event as an individual or as a team.
"The DECA conference was a great way to prepare the students for both higher education and a career in the business field," said Jackie Buchanan, President and CEO. "In addition, this conference provides students the opportunity to meet and network with likeminded students."
Students that were awarded with the highest honors at the Lake Orion DECA District 7 conference will move on to compete in the State Career Development Conference, which takes place in Grand Rapids, MI in March 2015.
"This year's DECA District 7 Conference was another shining moment not only for Lake Orion, but for all the students that are moving on to the State Conference. We are so proud of our hardworking students," said Julia Dalrymple, teacher at Lake Orion High School
About Genisys Credit Union
Genisys Credit Union is a not-for-profit, member-owned financial institution that has been committed to helping its members financially since 1936. Based out of Auburn Hills, MI, Genisys is one of the largest credit unions in Michigan, with over 149,000 members and 24 branch locations. They also provide business loans and a range of services for small to mid-sized businesses.  Genisys Credit Union is proud to be making a difference in their communities, and truly believes that Genisys is "where you come first". Connect with Genisys on Facebook and Twitter by following "GenisysCU". For convenient access to your account, download the Genisys iPhone App in the iTunes Store and Android App in the Google Play Store. For more information or a calendar of events, visit Genisys online at www.genisyscu.org.
---