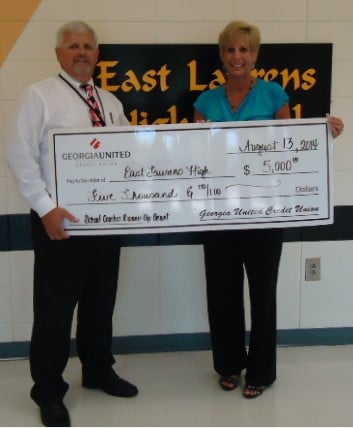 Georgia United Credit Union awards East Laurens High School $5,000 "School Crashers" runner-up grant
DUBLIN, GA (August 13, 2014) — CONGRATULATIONS to Georgia United Credit Union's five School Crasher Runner-Up Makeover Grant Recipients including East Laurens High School in Dublin! These schools were announced by CEO Debbie Smith at the conclusion of Grand Prize Winner Chapel Hill Elementary's Makeover Project. Chapel Hill Elementary was chosen from among752 nominations from schools across the state to receive a School Crashers facilities makeover. Numerous school improvements – from new carpeting, landscaping and ground cover to wall murals – were accomplished with 150 community volunteers and numerous corporate donors on Friday, July 25 and Saturday, July 26.
Check presentations were made at each of these "Runner-Up" schools this week, after students returned to school.
Cary Reynolds Elementary, Doraville – DeKalb County – $10,000 grant
Valley Point Elementary, Dalton – Whitfield County – $5,000 grant
SAGE School, Suwanee – $5,000 grant
Whit Davis Elementary, Athens – Clarke County – $5,000 grant
East Laurens High, Dublin – Laurens County – $5,000 grant
These five schools were selected from among the original School Crasher finalists and are just a few of the many deserving schools educating students in communities across the state.  Here are additional details about East Laurens High School's nomination:
East Laurens High, Laurens County 

920 US 80, Dublin, GA 31027

 

Contact: Eddie Morris, Principal 478.272.3144

 

$5,000 School Beautification Grant Winner

From one of the nominations: We are a small high school in Laurens County. We have about 600 students that work hard every day to overcome many obstacles. Our school is comprised of 75% economically disadvantaged students. These students come from many poor families in our county. The great thing about our school is the students are at or above many of the state academic indicators. This is a testament of the relationships that are made between the teachers, students, families, and business partners in our community. We would love to use this makeover to make our school shine for our students and community. We want a school where the students can be proud when they arrive. We will use this money to beautify our campus. Because of the relationships that we have with our community we could have many volunteers to help us. Please consider our nomination, you will not be sorry. Thanks for all you do for the schools in Laurens County.
About Georgia United Credit Union
Georgia United Credit Union is ranked as one of the top credit unions in Georgia in both size and safety at $990 million in assets, 128,000 members and 16 branch locations, including one on Veterans Boulevard in Dublin.  Georgia United seeks to make members' lives easier by offering products, services and education to help members meet their needs and achieve their goals.
For more information about School Crashers, visit www.georgiaunitedcu.org/schoolcrashers.
---