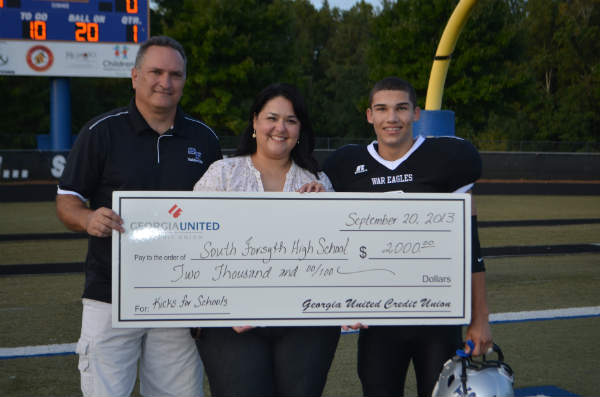 Georgia United Credit Union donates $2,000 to South Forsyth High School in "Kicks for Schools" promotion
CUMMING, GA (September 20, 2013) — Georgia United Credit Union is excited to announce that South Forsyth High School is the fourth Forsyth County school to win $2,000 in this season's "Kicks for Schools" football promotion (West Forsyth is also on the schedule for later this fall and Central,  North Forsyth and Lambert have already won $2,000 each). All high schools in Forsyth County have been invited to participate in a half-time field goal event to win money for their respective booster clubs.
Georgia United sponsors "Kicks for Schools" during football season to allow our Forsyth County home teams the opportunity to "kick to win" money for their school. South Forsyth High School wisely selected sophomore Alex Barbir, a member of War Eagles' football team as their designated kicker.
The kicker is given four tries to kick a field goal from the 5 yard line, 10 yard line and two 20 yard kicks – each distance has a corresponding monetary value.  The kicker can either kick three times from one distance or progress sequentially.  The maximum amount that the kicker can earn from their three kicks is $1,000.
After the student's third attempt, regardless of whether or not he has made a field goal from any distance, he gets a chance to kick the "Money Ball".  If the kicker missed all three of their initial field goal attempts, the ball is placed on the 5 yard line.  If he makes the money ball kick, he gets $250.  If the kicker makes a field goal on any of their first three tries, the money kick takes place from the furthest distance.  If he makes the kick, Georgia United doubles the contribution to the school (maximum payout per school is $2,000 which is the amount South Forsyth won).
About Georgia United Credit Union
Georgia United Credit Union is ranked as one of the top credit unions in Georgia with more than $960 million in assets and sixteen branch locations, including one located in downtown Cumming.  Their mission is to save members time and money. Georgia United Credit Union is federally insured by the National Credit Union Share Insurance Fund (NCUSIF) up to $250,000 per account. Georgia United Credit Union membership is open to all residents of Forsyth County.
---