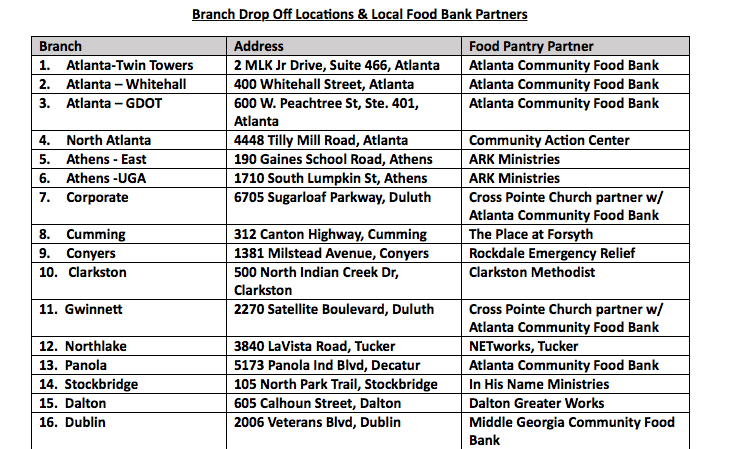 Georgia United Credit Union invites you to make a food drive donation & you could win VISA gift card
ATLANTA, GA (January 30, 2015) — Georgia United Credit Union invites you to participate in our annual "CAN HUNGER" food drive benefitting local food banks in our communities, February 2 through March 31. Help us stock the shelves of your local food pantry and feed neighbors in need.
Please drop off donations at the Georgia United Branch nearest you or make a $1 donation and we'll purchase a food item for you. All members who donate will be entered into a drawing to win a $250 VISA gift card.
The most requested/needed items are:
Peanut butter
Canned tuna & chicken
Canned fruit & vegetables
Canned soups, stews and pasta
100% fruit juice
Boxed pasta and rice
For the last three years, we encouraged all Georgia United Branches to collect canned goods for local food banks during February and March. Since that time, GUCU has raised 92,437 cans or 46 tons of food! (Using these Metrics:  One 16 oz. can or box = 1 lb.; $1.00 donation= 1 lb.; 1 ton = 2,000 pounds). It's time to assist our local food banks and we need your help!
Georgia United provides financial services to employees and family members of all Georgia state agencies, county governments, Board of Regents colleges and universities, numerous public and private school systems, and more than 500 select employee groups.  To learn more about Georgia United, please visit www.georgiaunitedcu.org.
---