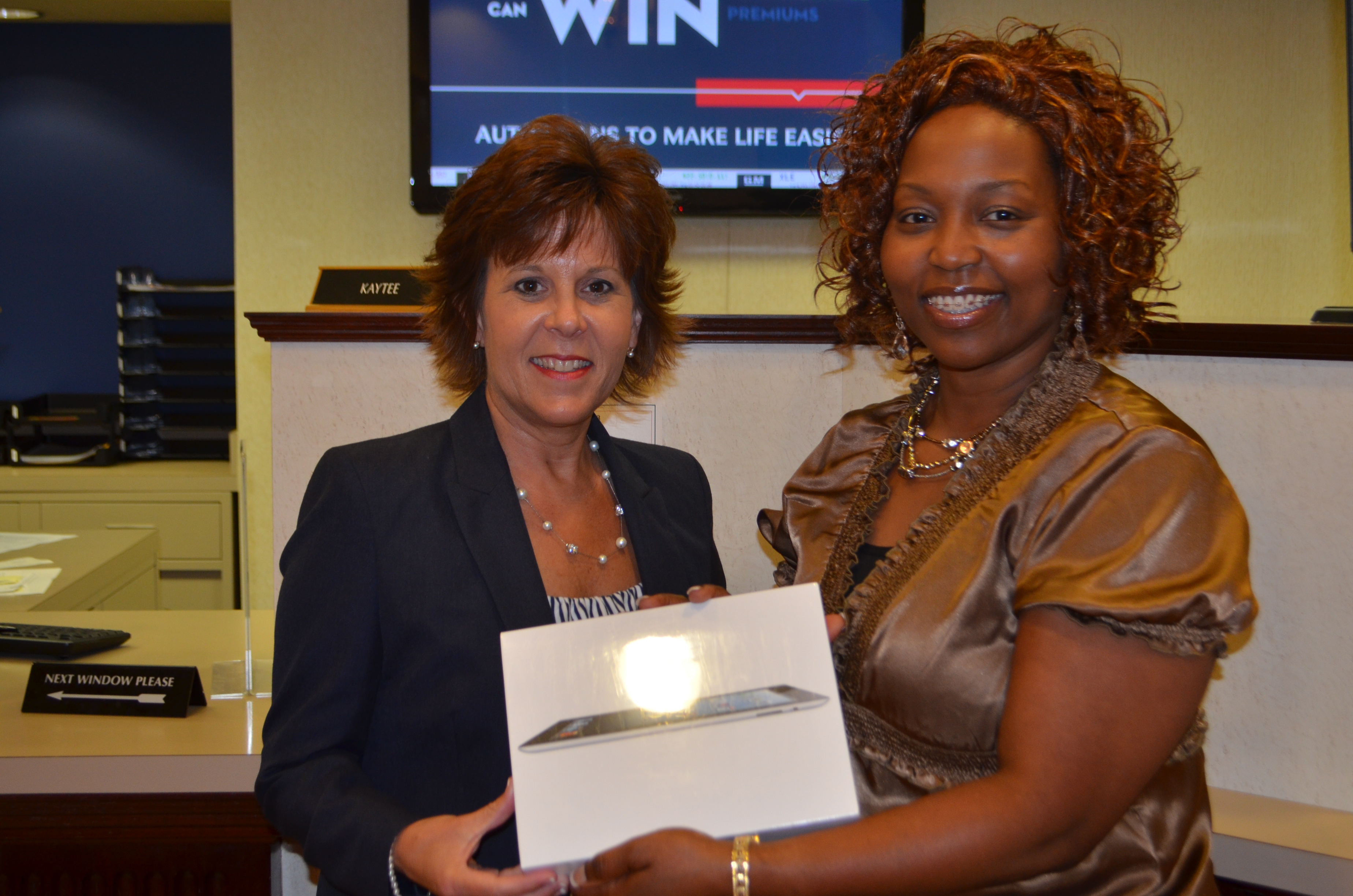 Georgia United Credit Union's CAN HUNGER Food Drive Collects 15 Tons (31,839 cans) for Local Food Banks and Dublin member wins iPad 3 Drawing!
DUBLIN, GA (April 29, 2013) – CONGRATULATIONS to Pamela Walker of Dublin, GA.  Pamela was the winner of the iPad 3 drawing from Georgia United Credit Union's spring CAN HUNGER food drive!  It was exciting to have 31,839 cans donated from among all 16 Georgia United's branches, and more importantly, Georgia United's CAN HUNGER food drive raised more than 15 tons of food to benefit local food pantries in our communities!  Thanks to donations by members like Pamela – Georgia United collected almost DOUBLE our original goal amount and our Dublin branch collected 4,018 cans to donate locally to the Laurens Baptist Association Ministry Center and Laurens County DFCS!
Georgia United used the following metrics to calculate donations: One 16 oz. can or box = 1 lb.; $1.00 donation= 1 lb.; 1 ton = 2,000 pounds. This is the second year that Georgia United's 16 branches held a spring food drive and they beat last year's total of 9.1 tons (18,375) by an impressive 6 tons!
Additional cash donations were also accepted and have been distributed to the designated food banks. As an added incentive, all members received one entry per item donated in a drawing for an iPad. The iPad drawing from among all entries took place on April 5 and the winner was Pamela Walker of Dublin, Georgia.
About Georgia United Credit Union
Georgia United Credit Union is ranked as one of the top credit unions in Georgia with over $940 million in assets and sixteen branch locations including a local branch at 2006 Veterans Boulevard in Dublin. Georgia United provides financial services to all residents of Laurens County, employees and family members of all Georgia state agencies, county governments, Board of Regents colleges and universities, numerous public and private school systems, over 450 private employers, adult and technical schools.  To learn more about Georgia United, please visit their website at www.georgiaunitedcu.org. All accounts are federally insured by the National Credit Union Share Insurance Fund (NCUSIF) up to $250,000 per account.
---