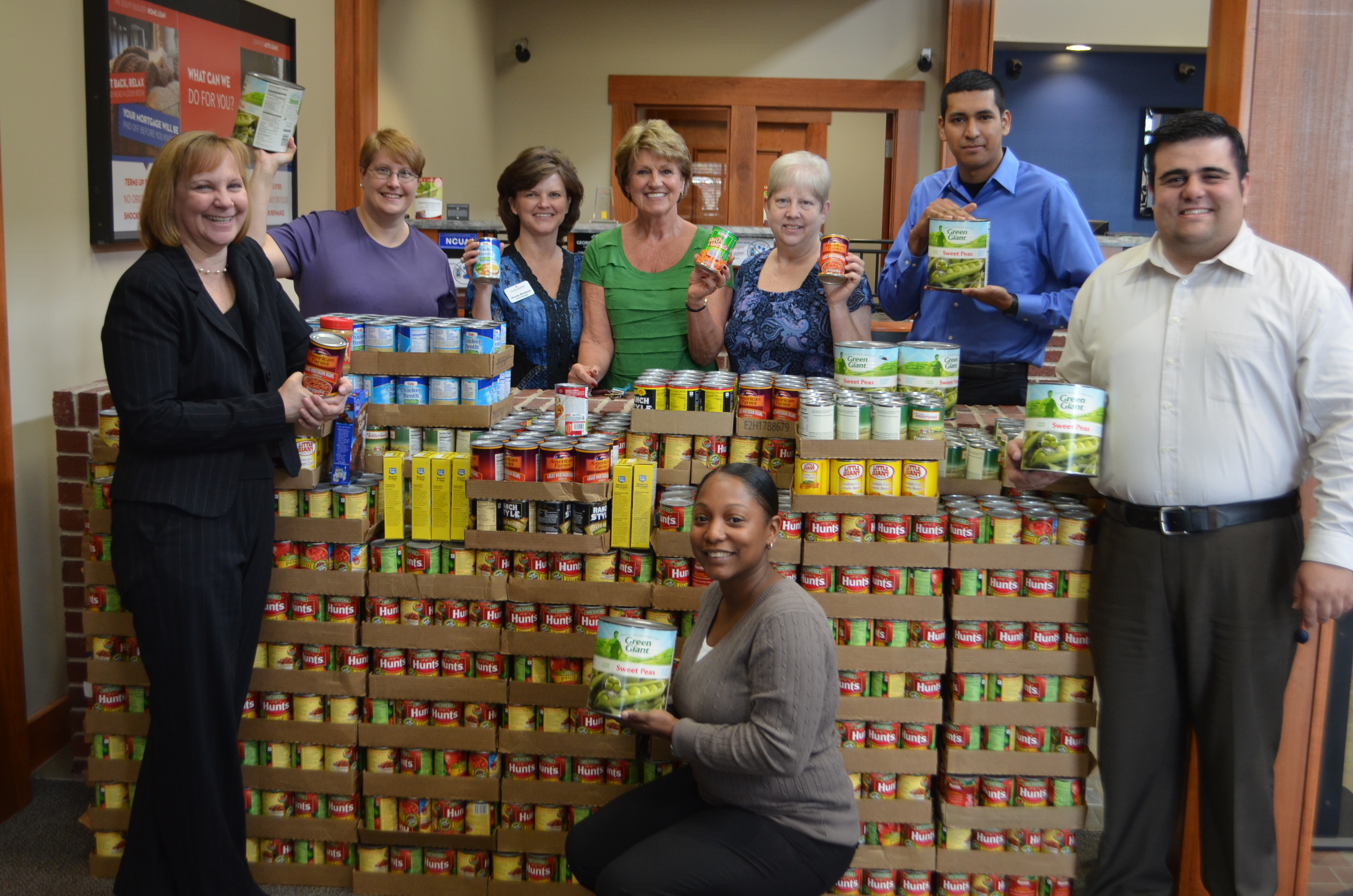 Georgia United Credit Union's Dalton Branch is Top CAN HUNGER Food Drive Collection Location with 4 Tons of Donations
DALTON, GA (April 9, 2013) – Georgia United Credit Union members and employees collected 31,839 cans or 15 tons of food donations in their two month CAN HUNGER drive to benefit local food banks. Out of all 16 Georgia United branches across the state, our Dalton Branch at 605 Calhoun Street was the top branch collecting 8,259 cans (or 4 tons) by themselves and surpassing their individual branch goal by 550.60%!  (Using these Metrics: One 16 oz. can or box = 1 lb.; $1.00 donation= 1 lb.; 1 ton = 2,000 pounds) This is the second year that Georgia United's 16 branches held a spring food drive and they beat last year's total of 9.1 tons (18,375) by an impressive 6 tons!
Each Georgia United Branch selected a local food bank to receive the donations and Dalton's Greater Works Ministry was the recipient for the Dalton area. Dalton Branch Manager Vonda Bledsoe shared comments from employee Jonathan Torres, who spearheaded this year's food drive. "We are so greatly thankful for the opportunity that we have had to help our community.  We realize that what we have accomplished as a corporation is more than anything we could have accomplished individually or as separate branches. It becomes evident that our shared strength lies in the passion that we all have for helping others in their most desperate time of need. We have proven that our collective success lies in the uninterested desire to help our communities in every way we can.
As for the Dalton branch, we have taken this challenge with such ferocity not only for our community, but also to honor the memory of our dear friend and former manager, John Bailey, a man who firmly believed that you should live your life for the benefit of others as he demonstrated every day when he gave all of his energy to his family, both at home and here at GUCU. It brings joy to our hearts to know that we work for an organization that will continue to guide itself by the same principles by which John lived his life. In conclusion, we can all agree we have made a difference in the local fight against hunger."
Georgia United provides financial services to residents of Whitfield County, employees and family members of all Georgia state agencies, county governments, Board of Regents colleges and universities, numerous public and private school systems, over 450 private employers, adult and technical schools.  To learn more about Georgia United, please visit their website at www.georgiaunitedcu.org. All accounts are federally insured by the National Credit Union Share Insurance Fund (NCUSIF) up to $250,000 per account.
---