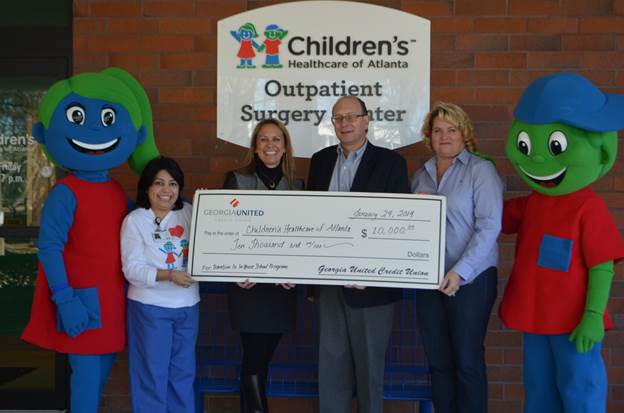 Georgia United CU donates $10K to Children's Healthcare's In-House School Program
DULUTH, GA (January 24, 2014) — Georgia United Credit Union presented $10,000 to Children's Healthcare of Atlanta today. This donation will help fund Children's Healthcare of Atlanta's Aflac Cancer Center's in-house school program. It costs approximately $65,000 annually to run this program so every donation counts!  Some of those funds were collected in change from Georgia United and STAR 94's Jingle Jam concert attendees in December.  Giant coin collection canisters were available in the lobby of this holiday concert at The Arena at Gwinnett Center as part of Georgia United's "Making Change for Education" initiative.
About CHOA In-House School Program
The Aflac Cancer and Blood Disorders Center of Children's Healthcare of Atlanta is recognized as one of the leading pediatric cancer, hematology, and blood and marrow transplant (BMT) programs in the country. The Center is committed to providing children and young adults with a brighter future through advanced medical treatment and family-centered care.  The In-House School Program at Children's helps support the educational needs of patients whose medical condition impacts their learning experience.
Teachers are highly qualified, Georgia-certified educators with previous classroom experience and the in-house school program is equipped with state-approved textbooks, computers and other learning tools. All services are free to patients and contributions like ours help make this possible – so children can keep up with their studies while recovering.
About Georgia United Credit Union
Georgia United Credit Union is ranked as one of the top credit unions in Georgia in both size and safety at $960 million in assets, 128,000 members and 220 employees.  Georgia United seeks to make members' lives easier by offering products, services and education to help members meet their needs and achieve their goals. All accounts are federally insured by the National Credit Union Share Insurance Fund (NCUSIF) up to $250,000 per account.
Georgia United Credit Union serves all State Agency employees, Board of Regents colleges and universities, the Archdiocese of Atlanta, employees of over 500 companies and 11 county school systems. 
---