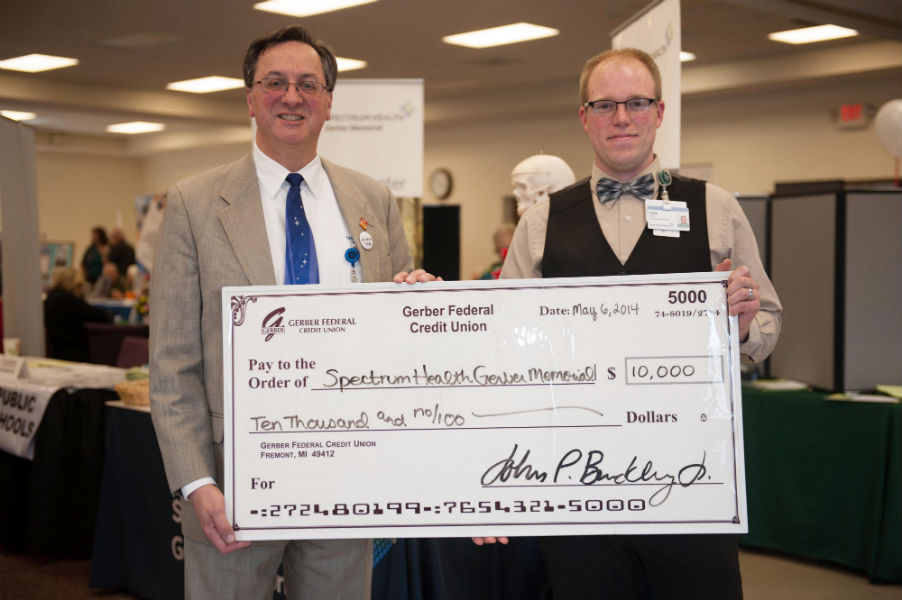 Gerber Federal Credit Union supports a healthy community
FREMONT, MI (June 12, 2014) — Spectrum Health Gerber Memorial's  recent construction project to provide an expanded emergency department and outpatient surgery area is receiving local support from donors who understand the value of local care.
"Gerber Memorial is committed to taking care of its patients, and it also contributes to the economic health of our community and those who live here by employing several hundred people, having a strong community presence and keeping health care local for us," explained John Buckley, President/CEO of Gerber Federal Credit Union.
Buckley feels so strongly about keeping the hospital viable to the community that he, his board and team decided to make a lead gift for Gerber Memorial's latest construction project.
The $9.6 million project has taken almost two years to complete and includes a remodel of the pre- and post-operative area, construction of a new emergency department and a complete overhaul of the hospital's main entrance lobby.
The hospital's new emergency department includes the latest technology and care approaches to ensure the safety of our patients and the highest quality services. It will have its own dedicated entrance for emergency patients, as well as an increase in the number of treatment rooms. Patients will experience more privacy, improved sight lines with the nurses' station and an improved flow of treatment.
Spectrum Health's mission is to improve the health of the communities it serves. "It's vital that we have local health care services as well as the connection to the Spectrum Health System," said Buckley.  "I sleep better knowing I have a good partner in health care just down the street.  And I'm proud to be involved in a project that can help all of us in so many ways."
Gerber FCU's commitment is a total of $50,000.  A June 29 Grand Opening is being planned for the community to come and see how gifts of all sizes have helped "Build Greater Possibilities" for emergencies at Gerber Memorial.
Gerber Federal Credit Union has more than 13,000 members with assets totaling over $125 million.  Over 120 businesses have partnered with Gerber FCU to offer the benefit of credit union membership to their employees, students, volunteers and family members!  For membership details, visit www.gerberfcu.com/youbelong.  Gerber FCU has two offices located in Fremont, MI, one in Newaygo, MI and one in Fort Smith, AR.  Connect with us on Facebook, Linkedin and Twitter.
---