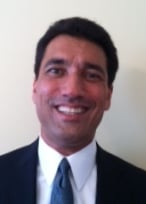 GHS Federal Credit Union Announces New President/ Chief Executive Officer
BINGHAMTON, NY (September 11, 2013) — GHS Federal Credit Union (GHS) is pleased to announce Howard Meller as the organization's new President and Chief Executive Officer, effective September 16, 2013.
"We are pleased that Howard is joining our team here at GHS," said Lawrence Maier, Chairman of the Board. "Howard's dedication and his proven track record of growth and customer service will make him a strong leader for our credit union.  We have the utmost confidence that under Howard's leadership GHS will continue its history of growth and member services."
For the past seven years he was employed at Sun Trust Bank as the Senior Vice President/Area Manager.  Howard was responsible for the management, customer service, and growth of 11 retail branches in southeastern Virginia.  Howard holds an MBA from St. John's University and a BA from Binghamton University, Binghamton, NY.
When asked about his new position at GHS, Howard stated, "It is an honor to accept the role of President and Chief Executive Officer of GHS.  The organization has such a rich history and a great reputation for member services.  I am eager to begin my service to the credit union and embrace the fundamentals of the credit union movement- not for profit, not for charity but for service of our members."
"Howard is a remarkable executive with a unique vision and drive that will ensure continued success for the credit union.  The Board is looking forward to working with him" said Maier.
About GHS Federal Credit Union
GHS was federally chartered in 1940 and community chartered in 2002.  For more than 70 years GHS Federal Credit Union has provided its members with quality financial services at an affordable cost.  GHS currently serves the Broome, Chenango and Tioga counties of New York.  GHS embraces the fundamental philosophy of the credit union- not for profit, not for charity but for service and is committed to the communities it serves.  For more information please visit, www.ghsfcu.com.
---