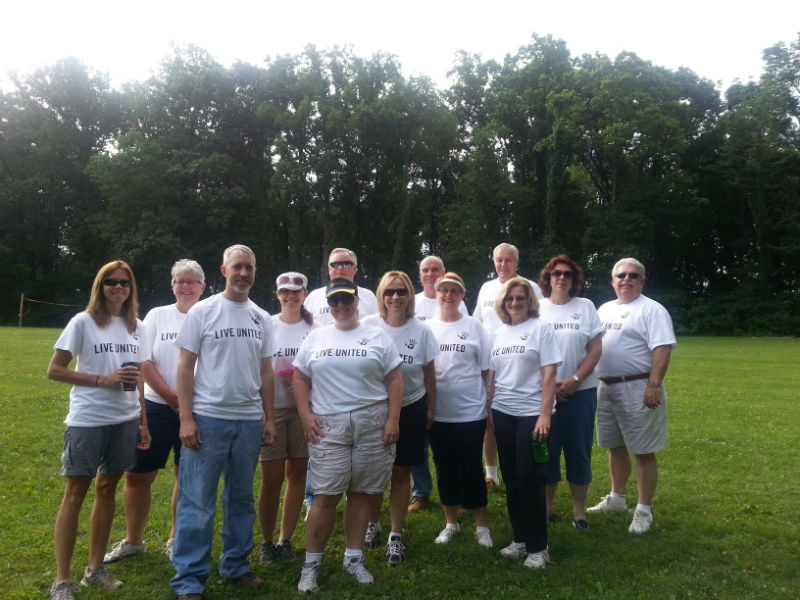 Girl Scout Camp gets a fresh new look!
YORK, PA (July 2, 2014) — On Monday, June 30, 2014 First Capital Federal Credit Union staff stained buildings at Camp Echo Trail in Felton as part of the United Way Day of Action.  The Day of Action is one of the largest volunteer events in York County.  More than 700 individuals participated in over 60 projects at local agencies.  And, managers at First Capital did their part to help out the Girl Scouts.
"It was a great opportunity to get out in the community and live our mission of people helping people," said Tara Houser, VP of Marketing.
Camp Echo Trail was founded in 1953, and the 315-acre camp offers open spaces for field activities and in the summer can house up to 264 people.
First Capital Federal Credit Union is a $160 million asset-size credit union with nearly 18,000 members based in York, PA.  Founded in 1954 as S. Morgan Smith Credit Union, First Capital has merged and grown, and continues to work closely with more than 400 companies and organizations throughout York County and across the country.
Photo: First Capital FCU staff prepare to stain buildings.  (This was taken before we were in up to our elbows in paint!)
(l to right): Wendy Bixler, Wendy Spangler, Kevin Linden, Alicia Venable, Tara Houser (front), Chuck Burkhardt (directly behind), Sue DeStephano, Dennis Flickinger, Becky Braun, Bill Pacacha, Sharon Miller, Lisa Day, and Ed Fadely
---