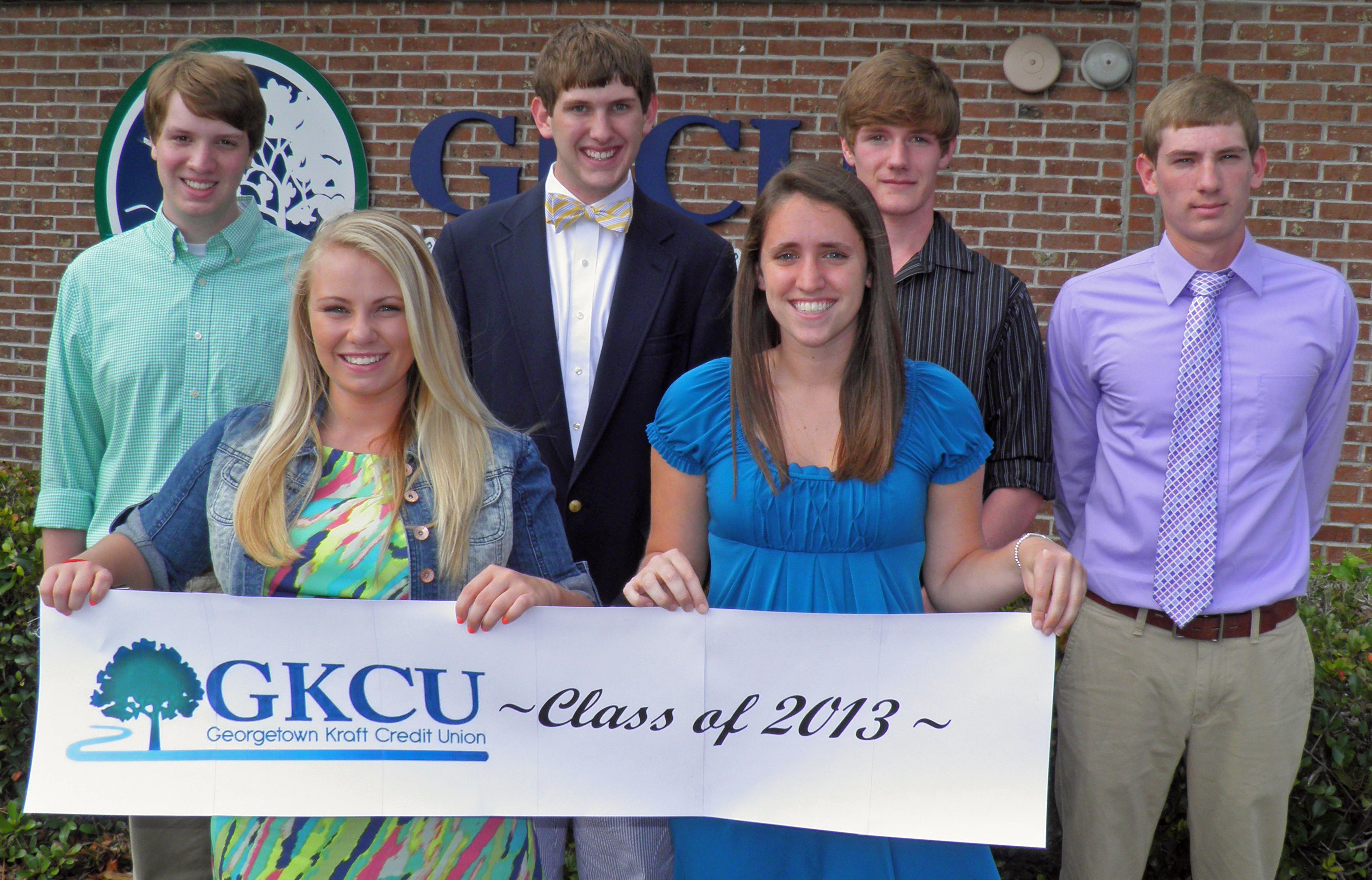 GKCU Awards College Scholarships to Class of 2013
GEORGETOWN, SC (May 28, 2013) GKCU is honored to recognize seven area high school seniors from the graduating class of 2013 as this year's Randolph Elliott GKCU Scholarship recipients. Each recipient is awarded a $1,000 scholarship that can be used as a supplement to offset costs of tuition, books or room and board at any two- or four-year college.
The recipients for the 2013 GKCU College Scholarships are: Damien Maglich of Andrews High School who will be attending the Humboldt State University (California); Caitlyn Goodwin of Georgetown High School who will be attending the Coastal Carolina University; Mary Kate Mueller of Waccamaw High School who will be attending Clemson University, William Gaskins of Andrews High School who will be attending College of William & Mary; Rebekah Parsons of Georgetown High School who will be attending the Clemson University; Seth LeGette of Carvers Bay  High School who will be attending Clemson University and Chance Taylor of Georgetown High School who will be attending either Campbell University or Anderson College.
The scholarships were renamed in 2011 to honor the memory of long time GKCU employee, volunteer and credit union advocate, Randolph Elliott.
"This year's class of 2013 demonstrated so much ambition and commitment. We are proud to be able to continue  our commitment for financial education with these scholarships. All of the recipients are deserving of this recognition and are strong models of what you can accomplish with hard work, focus and determination" states Nikki Ewing, GKCU Marketing Director.
A 3-person selection volunteer committee comprised selected the recipients based on their academic and extracurricular activities at school, community involvement and services and work and leadership experience.
"All of this year's applicants displayed a strong commitment to their educational and community involvement while still remaining passionate and excelling in individual interests. Due to the overwhelming caliber of applicants, our Board of Directors voted unanimously to award an additional two scholarships to give a total of $7,000 to the class of 2013. We are honored to continue to recognize outstanding area students for their accomplishments and help them take the next steps in their lives to higher education," states Ewing.
In total, GKCU received 35 applications from schools in both Georgetown and Williamsburg Counties. Applicants are required to be a GKCU member or son/daughter of a GKCU member. The application outlines interests in school and community, work and leadership experience, an essay on community service and a letter of recommendation. The recipients and their families were recognized during a special reception held in May where GKCU Board and staff members personally congratulated them.
GKCU is a member-owned, full-service financial institution with branches in Georgetown, Andrews and Kingstree and Pawleys Island. Georgetown Kraft Credit Union is able to serve anyone who lives, works or attends school in Georgetown and Williamsburg counties.
---