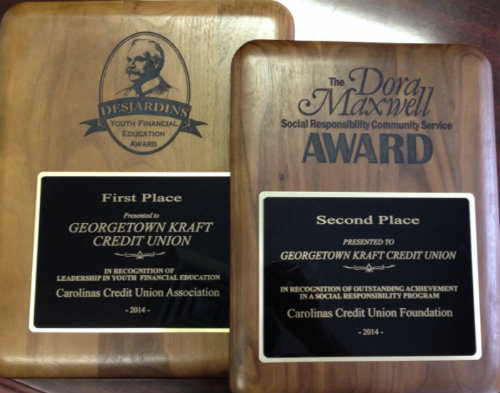 GKCU recognized for youth education & community service
GEORGETOWN, SC (September 10, 2014) — Georgetown Kraft Credit Union (GKCU) has been recognized by the Carolinas Credit Union League Foundation with two state-level awards (based on asset size): first place in the Desjardins Youth Education Award and 2nd place in the Dora Maxwell Service Award for Social Responsibility.
"Being a part of any community means involvement and support and that is a mission that GKCU stands proud of in Georgetown and Williamsburg Counties. Both youth financial education and community service are two areas where GKCU's passions shine through," states Nikki Ewing, GKCU Marketing Director.
GKCU's first place award for youth financial education was given for their involvement, participation and sponsorship of Money Rocks Summit. The one-day educational workshop hosted over 120 middle and high school students, from Georgetown County, to a variety of topics ranging from financial education to resume writing to car buying. The summit was held in conjunction with Family Services, Inc., the Georgetown County School District and the Bunnelle Foundation. In addition to being a financial supporter, GKCU was responsible for helping to organize the event, soliciting other sponsors and speakers, coordinating with school district staff and conducting the financial education seminar at the event.
"GKCU has been active in the classroom with money management presentations for years. However, Money Rocks was a great initiative to reach many students on different academic and educational levels at one time and help them with a life skill that is invaluable," states Ewing. "We are proud of our efforts and will continue to create opportunities for our students to get the basic money skills they need to help them in the future."
Alphonse Desjardins (1854–1920) was a credit union pioneer who was instrumental in forming the Canadian and U.S. credit union movements. Besides helping to found the first credit unions in Canada and the U.S., Desjardins pioneered youth savings clubs and in-school "banks," known as caisses scolaires.
The Dora Maxwell Social Responsibility Award is given to credit unions for one ongoing community service program. GKCU received 2nd place for participation and sponsorship with March of Dimes. Raising over $9500 for the March of Dimes, GKCU helps raise awareness and educate mothers of the effects of prenatal care. GKCU also received awards for highest fundraiser (with corporate sponsorship), three top individual fundraisers and had over 50 people at the Walk for Babies event.
"Our commitment to March of Dimes spans three decades and continues to be one of our biggest causes that GKCU literally takes to our feet for," states Ewing. "It truly is a team effort from our staff raising money, our members donating in our lobbies and our community giving support at the walk. We are proud of being a community-oriented credit union helping many organizations. Picking just one community service program was difficult but we know when we help March of Dimes we are not giving to the babies of today but for all the future ones that will need our help."
Dora Maxwell was an early credit union pioneer as one of the original signers of the CUNA (Credit Union National Association) constitution at Estes Park, Colorado, where she worked as
an organizer for the movement's trade association. She held several volunteer positions at the local and national level, including the development of volunteer organizer clubs and working with organizations on behalf of the poor.
GKCU is a member-owned, full-service financial institution with branches in Georgetown, Andrews, Kingstree and Pawleys Island; and a part-time high school branch at Georgetown High. Chartered over 62 years ago for the employees of International Paper, GKCU is able to serve anyone who lives, works or attends school in Georgetown and Williamsburg counties and offers a wide range of financial services and lending products. For more information on joining the credit union, call or visit gkcu.org.
---