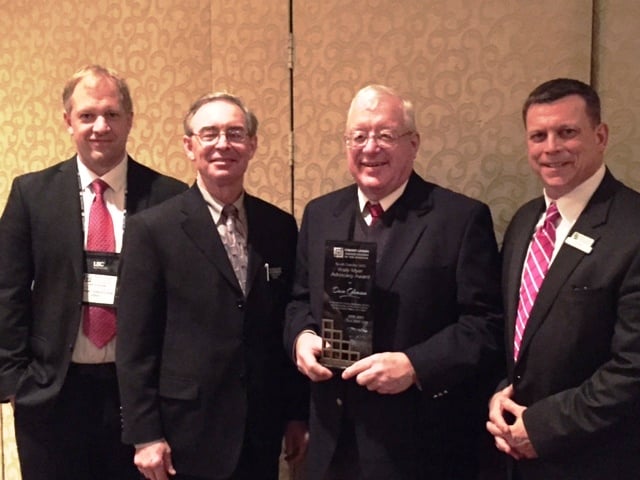 Gleason receives Advocacy Award
PIERRE, SD (January 29, 2015) — Dave Gleason was presented with the Wally Myer Advocacy Award at the Credit Union Association of the Dakotas (CUAD) South Dakota Legislative Social held in Pierre, SD on January 28th, 2015.
Gleason is the former CEO of Coteau Valley FCU; he retired last October. He is a former four-term SD legislator from District 1. He was the first chair of the South Dakota GAC after the merger between the South Dakota and North Dakota Credit Union Leagues, a position he held from 2007-2011. Gleason is also a former CUAD Director.
"Dave has been a dedicated and committed credit union leader, and his experience with the legislature has helped us tremendously in developing our relationships with current legislators" stated Jeff Olson, CUAD EVP Government Affairs.
The Wally Myer Advocacy Award was established in 2014, and recognizes work in the areas of credit union advocacy and government relations in South Dakota. Wally Myer was a long time volunteer at Service First FCU of Sioux Falls, SD, and was passionate about government relations and credit union advocacy.
Photo L to R: Jeff Schmidt, COO Voyage FCU and SD GAC Chair; Steve McCleary, Coteau Valley FCU Volunteer and SD Legislator Dist. 1; Dave Gleason, award recipient; and Jeff Olson, CUAD EVP Government Affairs.
Headquartered in Bismarck, ND, the Credit Union Association of the Dakotas (CUAD) is the professional financial trade association serving 68 credit unions in North and South Dakota with assets in excess of $5.5 billion and serving over 450,000 credit union members. For more information about CUAD visit our website at www.cuad.coop.
---