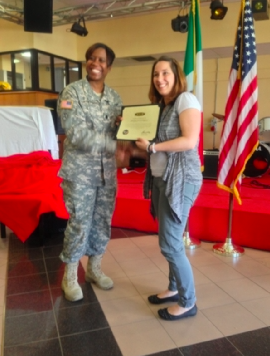 Global awards community service volunteers
SPOKANE, WA (February 24, 2015) — On Monday, February 16, 2015, Global Credit Union presented Angela Futrell, the 2014 La Liberte Community Excellence Award. Named in honor of one of Global's original founders, Eugene La Liberte, this award recognizes one outstanding employee whose service to his or her community is remarkable and makes a significant impact. 
Angela, pictured on the right, works at the Camp Darby Branch in Tirrenia, Italy as a Member Services Representative.  She came to work for Global Credit Union in 2012 and her willingness to serve has been observed by many.  When asked about her accomplishments, Yvonne Holland, VP of Branch Operations, says, "In addition to being a dedicated employee at Global, Angela's service to the community is inspiring. Her volunteerism has positively impacted many people."
Angela donated more than 225 hours in 2014 to several different causes. Some of these include: Girl Scouts, Club Beyond, African American Heritage Month, Asian Pacific Heritage Month, Hispanic Heritage Month, Key Spouse, Youth Center Easter Fest, PTSO and many more. In addition to the recognition, Angela's charity of choice will receive a donation in the amount of $500.  Sharon Carter, the manager at Camp Darby Branch remarks, "Angela has dedicated so much of her time to this community….She doesn't even have a little girl but manages to volunteer for the Girl Scouts so there is a program. In a small community like ours, we have to come together." 
This award honors the legacy of Eugene La Liberte (1919-2011) by recognizing employees for the values he represented so extraordinarily.  He dedicated much of his life to community service. The La Liberte Community Service Recognition Committee looks at all employees who participate in the credit union's community service program throughout one calendar year.
Global Credit Union has a long tradition of community involvement, receiving accolades for its efforts in every region it serves. Global's Community Service Program celebrates those employees who engage in activities that serve the needs of the community. Awards to commend these individuals were distributed at Global's annual Employee Conference on February 16, 2015.
Employees earn 10 points per hour of volunteer service, plus 25 bonus points when participating in a credit union sponsored charitable event. At the 2015 employee conference, the following employees received recognition for their service:
Community Helping Hand (250+ pts and 4 hours paid time off):
Katrin Lippoldt: Finance Specialist – Headquarters, Spokane WA
Hillary Jacobson: Ops Center Member Services Representative, Tech Support – Headquarters, Spokane WA
Mellie Price:  Brand Manager – Headquarters, Spokane WA
Sharon Carter: Branch Manager –  Camp Darby, Italy
Alicia Bode: Production Specialist – Headquarters, Spokane WA
Community Friend (650+ pts and 1 paid day off):
Linda Crane: Executive Assistant – Headquarters, Spokane WA
Additional employees volunteered throughout 2014.  They were acknowledged as well.  These employees are excellent examples of Global's Core Purpose to Grow Dreams, Members and Community.
Global Credit Union, founded in 1954 is a full service financial institution with assets of over $352 million serving 48,000+ members residing around the world. Membership is open to anyone living or working in Washington State, Kootenai, Benewah, Shoshone or Latah counties in Idaho, and all active and retired military members and their families worldwide. For more information about Global Credit Union please visit www.globalcu.org
---