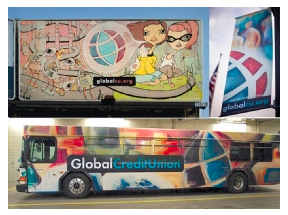 Global Credit Union receives 2014 CUES Brand of the Year award
SPOKANE, WA — On July 17 Global Credit Union was named winner of the 2014 CUES GMA Brand of the Year award to recognize strategy, goals and results contributing to an outstanding brand.
A year and a half after rebranding in February 2013, Global has experienced great success by dramatically repositioning themselves as a key player in the financial industry. Through strategic marketing and design with direction from Boom Creative, Global has transformed their image, community initiative and visibility.
Global's innovative brand celebrates individuals who make a difference in the community. They have partnered with local artists, musicians and organizations that advocate cultural authenticity to represent their initiative.
Global's reach is far and wide and their new look and representation is everywhere. They can be found on bus wraps, billboards, TV and radio advertisements, community events and social media. To that effect, Global has seen positive membership growth, increased net worth and significant consumer loan growth since May 2013.
"We are so thrilled, humbled and honored to be recognized as CUES National Brand of the Year," says CEO and President Jack Fallis. "This process all began with a creative vision to grow our credit union and do more of what we love to do—help members achieve their financial dreams. Through this rebrand we have been able to do just that."
To find out more visit globalcu.org/evolution.
About Global Credit Union
Global Credit Union, founded in 1954, is a full service financial institution with assets of over $364 million serving 48,000+ members residing around the world. Membership is open to anyone living or working in Washington State, Kootenai, Benewah, Shoshone or Latah counties in Idaho, and all active military members and their families worldwide. For more information about Global Credit Union please visit www.globalcu.org.
---