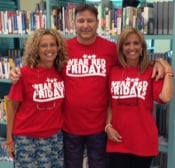 Global Wears Red All Around the World and Raises $4,500 So Far
SPOKANE, WA (August 13, 2013) — After launching their Wear Red campaign with KXLY over two months ago, Global Credit Union continues to support US troops by wearing red every Friday and has raised over $4,500 as of July 31, 2013.
Global's Wear Red campaign was launched Memorial Day and will continue through September 11. Global's staff wear red every Friday for the cause and encourage others to join the movement through word of mouth, social media, advertising and other marketing tactics.
Global is also handing out complimentary red wristbands, taking donations and selling Wear Red t-shirts to raise money for local military organizations in each region they serve.
The community reaction to the campaign has been overwhelmingly positive. As seen in the picture to the right, the public is eager to join the Wear Red movement and get involved.
Debora Lomi, librarian at Darby military base in Italy, is pictured far left wearing a Global Wear Red t-shirt along with her colleagues. She says, "I am wearing Red every Friday to support the troops. It's important because the soldiers are always fighting for our country and for peace in the world. They need our support. Thank you!"
With deep roots in the military, Global is greatly invested in honoring and giving back to the United States servicemen and servicewomen who defend our country and protect our independence.
For more information on which organizations will be benefitting from this campaign and how to get involved please visit www.globalcu.org/wearred.
About Global Credit Union
Global Credit Union, founded in 1954 is a full service financial institution with assets of over $352 million serving 48,000+ members residing around the world. Membership is open to anyone living or working in Washington State, Kootenai, Benewah, Shoshone or Latah counties in Idaho, and all active and retired military members and their families worldwide. For more information about Global Credit Union please visit www.globalcu.org.
---