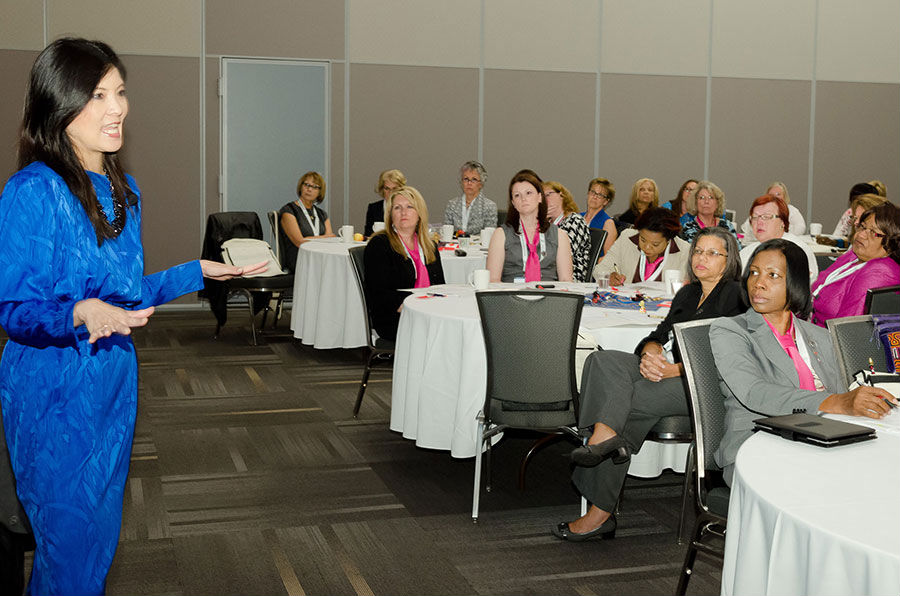 Global Women's Leadership Network announces 2014 scholarship winners
Recipients compete to receive Network support for a local CU project
MADISON, WI (May 22, 2014) — Six women from Azerbaijan, Kenya, Liberia, Malawi, Thailand and USA have been awarded a 2014 Global Women's Leadership Network scholarship, which promotes emerging women credit union leaders by providing them with access to a network of credit union professional expertise.
The 2014 Global Women's Leadership Network scholarship recipients include:
Nigar Agamaliyeva, Administrative Manager, Azerbaijan Credit Unions Association (Azerbaijan)
Esther Cherono Keino, General Manager, Cooperative Development, Belgut Rural Women SACCO (Kenya)
Kristi Lozano, Financial Education Specialist, San Mateo Credit Union (USA)
Elenita V. San Roque, Manager Member Services, Association of Asian Confederation of Credit Unions (Thailand)
Triza Tsiga Magreta, General Manager, Mudi SACCO (Malawi)
Kortoe D. Woloquelli, Women's Coordinator, Trust Savings Credit Union Women's Organization (Liberia)
Scholarship recipients will join nearly 100 women from 13 countries for the sixth annual Global Women's Leadership Forum (July 26–27) and World Credit Union Conference (July 27–30) in Gold Coast, Australia. This year's agenda will feature Dr. Louise Mahler, renowned expert on vocal intelligence, as the keynote speaker. In 2013, more than 100 high-level female leaders worldwide participated in the Leadership Forum.
"This year the Network is taking another step forward in supporting international women's leadership by selecting and participating in the implementation of field programs that credit union women lead in their communities," said Brian Branch, World Council president and CEO.
Recipients design the projects to foster the success of their organization by solving a problem or meeting a credit union and/or community need. During the 2014 Leadership Forum, recipients will present their projects to Network members, who will vote on which of the six scholarship winners will receive Network support for the implementation of their project. Those chosen will carry out their project from August 2014 through June 2015 and will present their project results at the 2015 Global Women's Leadership Forum in Denver, USA.
Triza Tsiga Magreta of Mudi SACCO in Malawi designed a program to increase her credit union's ability to serve women in the community. The proposed project combines financial literacy training and savings mobilization with a special group-lending model to strengthen economic capacities while enabling women to develop their leadership skills. "When women are financially empowered, they are in a better position to allocate resources that solve family challenges leading to improved family well-being," said Ms. Tsiga Magreta.
Scholarship recipients receive a one-year Network membership, varying levels of financial support for their participation in the Global Women's Leadership Forum, as well as the opportunity to receive technical and financial support for the implementation of their projects. Network scholarships are made possible through funding from annual membership donations and sponsorships, including the generous support of CUNA Mutual Group (USA), The Members Group (Iowa, USA) and the Susan Adams Scholarship Fund, which was established in honor of former Entrust Financial Credit Union CEO Susan Adams by Arizona State Credit Union and is supported by PSCU.
The Global Women's Leadership Network is a World Council of Credit Unions initiative to advance credit union women in leadership. The Network provides a unique opportunity for credit union women to make a global impact by sharing business knowledge and experiences with industry peers. By supporting the professional development of credit union leaders, Network members are empowered to expand the impact of their credit unions and make a difference in their communities. More than 600 women from 40 countries have been involved with the Network since its inception, with regional sister society groups in multiple locations in the U.S. and around the world. Learn more at www.CUwomen.org.
World Council of Credit Unions is the global trade association and development agency for credit unions. World Council promotes the sustainable development of credit unions and other financial cooperatives around the world to empower people through access to high quality and affordable financial services. World Council advocates on behalf of the global credit union system before international organizations and works with national governments to improve legislation and regulation. Its technical assistance programs introduce new tools and technologies to strengthen credit unions' financial performance and increase their outreach.
World Council has implemented more than 290 technical assistance programs in 71 countries. Worldwide, 56,000 credit unions in 101 countries serve 200 million people. Learn more about World Council's impact around the world at www.woccu.org.
---