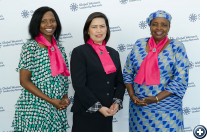 Global Women's Leadership Network now accepting 2015 scholarship applications
MADISON, WI (March 5, 2015) — World Council of Credit Unions invites eligible female credit union leaders to apply for the 2015 Global Women's Leadership Network scholarship. Applications are due April 3, 2015.
The purpose of the scholarship program is to advance credit union women in leadership roles around the world. The Network seeks emerging women leaders who are interested and committed to making a difference in their local credit union movements. Scholarship winners receive complimentary access to the Network and participation in the 2015 World Credit Union Conference and the Global Women's Leadership Forum. Recipients also become candidates eligible to receive the Empowerment Grant to increase access to loans, credit and financial education for women in their community.
Last year, scholarship winners Elenita San Roque, CEO, Association of Asian Confederation of Credit Unions (Thailand); and Kristi Lozano, Financial Education Specialist, San Mateo Credit Union (USA), were selected as 2014 Empowerment Grant recipients. San Roque is working with Paglaum Multi-Purpose Cooperative in the Philippines to establish a business development center that will help advance women members' entrepreneurial and leadership skills, as well as access to markets and information for micro and small enterprise developments. Lozano's project aims to increase the financial and leadership skills of female high school credit union members, and assist in their preparation to enroll in a college or university.
Scholarship recipients are invited to attend the 2015 Global Women's Leadership Forum and World Credit Union Conference, taking place in Denver, Colorado, USA, July 12–15. During the conference, selected candidates will present their project proposals for Network members to review and vote on. Those chosen for an Empowerment Grant will have one year to carry out their project. Candidates are highly encouraged to provide an opportunity for Network members to assist with local implementation.
To be eligible for the scholarship, applicants must be female emerging leaders in the global credit union movement. This includes young professionals ages 18–35, and leaders from developing credit union movements, which excludes Australia, Brazil, Canada, Ireland, Poland and the United States. Successful candidates must demonstrate the ability to effectively implement their proposed project, and suggest appropriate engagement from the Network, such as volunteer opportunities and training events.
Interested women should submit their two-part scholarship and empowerment grant application to CUwomen@woccu.org by April 3. A committee will review applications and contact successful candidates by April 20. For complete details about the scholarship criteria and awards, visit www.CUwomen.org/scholarships. For questions on the scholarship application process, contact Brianne Hurford at+1-608-395-2063 or bhurford@woccu.org.
Network scholarships are made possible through funding from annual membership donations and sponsorships, including the generous support of CUNA Mutual Group (USA), The Members Group (Iowa, USA) and the Susan Adams Scholarship Fund, which was established in honor of former Entrust Financial Credit Union CEO Susan Adams and supported by Arizona State Credit Union and PSCU.
Those interested in supporting the scholarship or Empowerment Grant programs can donate directly here. For questions about sponsorship opportunities, contact Calyn Ostrowski at +1-608-395-2056 or costrowski@woccu.org.
World Council of Credit Unions is the global trade association and development agency for credit unions. World Council promotes the sustainable development of credit unions and other financial cooperatives around the world to empower people through access to high quality and affordable financial services. World Council advocates on behalf of the global credit union system before international organizations and works with national governments to improve legislation and regulation. Its technical assistance programs introduce new tools and technologies to strengthen credit unions' financial performance and increase their outreach.
World Council has implemented more than 290 technical assistance programs in 71 countries. Worldwide, 57,000 credit unions in 103 countries serve 208 million people. Learn more about World Council's impact around the world at www.woccu.org.
Photo caption: 2014 scholarship winners included (from left) Triza Tsiga Magreta, Mudi SACCO, Malawi; Elenita San Roque, Association of Asian Confederation of Credit Unions, Thailand; and Esther Cherono Keino, Belgut Rural Women SACCO, Kenya. Winners not pictured include Kristi Lozano, San Mateo Credit Union, U.S.; Nigar Agamaliyeva, Azerbaijan Credit Unions Association, Azerbaijan; and Kortoe D. Woloquelli, Trust Savings Credit Union Women's Organization, Liberia.
---