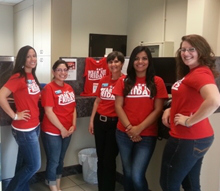 Global's Wear Red campaign pays off…literally
SPOKANE, WA (September 25, 2013) — As their Wear Red campaign with ABC affiliates KXLY in Spokane and KVEW in the Tri-Cities wraps up, Global Credit Union is proud to annouce that they have raised $3,820.11 for local military organizations.
Global's Wear Red campaign launched Memorial Day and continued through September 11. Global's staff wore red every Friday to support US troops and encouraged others to join the movement through word of mouth, social media, television and radio advertising and distributing free Support Our Troops wristbands.
Global also accepted donations and sold Wear Red t-shirts to raise money for the following military organizations: Operation Spokane Heroes, Columbia Basin Veteran's Coalition, Disabled American Veterans Chapter 9, Aviano's Friends of Family, Vicenza's Army Emergency Relief, and Darby's Army Emergency Relief.
The community reaction to the campaign has been overwhelmingly positive. Members in all regions were excited to support troops and eager to get involved.
Sandy Kates, Chair of Operation Spokane Heroes says, "We are honored that Global has chosen us as one of the recipients of the Wear Red on Friday Campaign this year. This money is especially important, as it will be used to help those military families in our region that are in need. Some ways it may be used is to assist with rent, food, gas and other emergency needs that may arise from our deployed troops whose pay may not have caught up with them yet as they arrive home. So, on behalf of them and OSH, we thank Global for the continued support of our mission!"
With deep roots in the military, Global is greatly invested in honoring and giving back to the United States servicemen and servicewomen who defend our country and protect our independence.
About Global Credit Union
Global Credit Union, founded in 1954 is a full service financial institution with assets of over $352 million serving 48,000+ members residing around the world. Membership is open to anyone living or working in Washington State, Kootenai, Benewah, Shoshone or Latah counties in Idaho, and all active and retired military members and their families worldwide. For more information about Global Credit Union please visit www.globalcu.org.
---