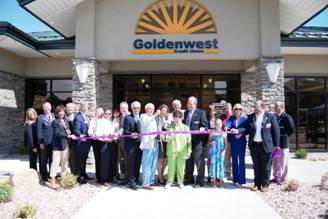 Goldenwest Opens Bountiful Branch
OGDEN, UT (August 8, 2013) — Goldenwest Credit Union marked the official opening of a new branch with a ribbon cutting ceremony earlier this week. The branch is located at 2085 Orchard Drive in Bountiful, and serves as the 77 year-old credit union's 21st office for their 90,000 members.
"Since purchasing the site a few years ago, we've looked forward to opening a branch in Bountiful," said Kerry H. Wahlen, Goldenwest President/CEO. "This office is the perfect complement to the branch we opened inside Dick's Market in Centerville in August 2012. We are pleased to offer local members two convenient locations in southern Davis County."
The immediate area on Orchard Drive has experienced significant development in recent months, with condos and office space under construction near the office.
"It's exciting for Goldenwest to be part of an established residential area in Bountiful that is experiencing new growth," continued Wahlen. "We look forward to serving our existing members at this beautiful new branch, and welcome other Bountiful residents and businesses to join our credit union family."
Goldenwest Credit Union board members and officers joined in celebration with credit union employees and members to officially open the new office. Also participating in the events was Bountiful City Mayor Joe Johnson and local Boy Scout Troop 869. The Davis Chamber of Commerce, led by Jeff Smith, helped welcome Goldenwest to the local business community.
Goldenwest Assistant Vice President and long-time Bountiful resident Phill Wright will oversee all branch activity and originate mortgages from the new office. Wright has been employed by Goldenwest for nine years, and previously worked in a similar role at the credit union's Kaysville office.
Construction for the 4,000 square foot Bountiful office began in February. The full-service branch includes mortgage and loan offices, five teller stations, safe deposit boxes, four drive-thru lanes and a 24-hour drive-up Co-op Network ATM. The branch will also serve members of other credit unions as part of the Credit Union Service Center shared branch network.
Goldenwest partnered with Utah-based companies on the building project, including Wadman Corporation, Architectural Nexus and ROI Engineering.
About Goldenwest Federal Credit Union
Founded in 1936, the Ogden-based credit union currently holds $848 million in assets, has more than 90,000 members and operates 21 branches with offices in Weber, Morgan, Davis, Salt Lake, Utah and Washington Counties. Goldenwest is a leading provider of consumer loans, mortgages, free checking services and deposit products throughout Utah.
Goldenwest recently announced its intent to merge with USU Credit Union, which holds $139 million in assets, serves 17,000 members and operates five branches located Cache and Box Elder Counties. The merger has received approval from the NCUA and expected to be complete before the end of the year.
---