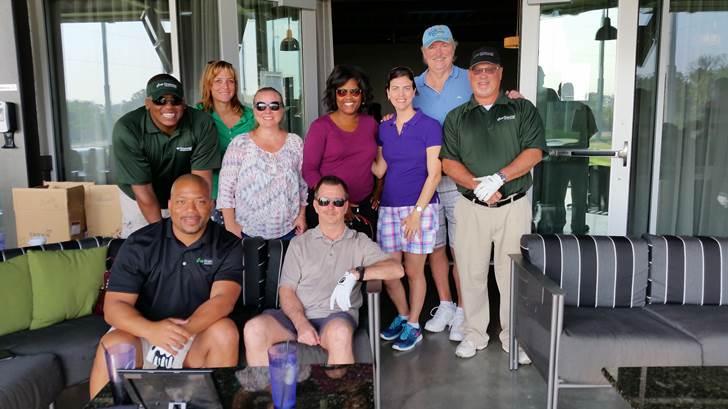 Golf Classic held at Topgolf Tampa on March 20
TAMPA, FL (March 30, 2015) — Grow Financial, one of the leading Credit Unions in the nation recently participated in the 22nd Annual Golf Classic at Topgolf Tampa.  This is the first time the Classic was held at a venue other than a typical golf course and the first charity golf tournament that an outside group has hosted at the new Topgolf venue in Tampa.
The proceeds for this year's golf outing benefit the National Credit Union Foundation and the Florida Credit Union Political Action Committee.  Both help to ensure that the benefits of credit unions continue to help consumers throughout the Tampa Bay area
"We decided to try something a little different this year by holding the Classic at Topgolf", said Allen Milliron, Director of Corporate Sponsorships for Grow Financial.  "Comments from both the golfers and sponsors were very positive with everyone expressing they had a great time."
This year a total of 60 golfers participated in the Classic.  Other credit unions besides Grow Financial included:  Suncoast CU, San Antonio Citizens CU, Florida Central CU, Railroad & Industrial CU, USF Federal CU, Tampa Bay Federal CU, PowerNet CU, GTE Financial and American Eagle CU.
Industry vendors included PSCU, CSCU, Leverage/CUNA Mutual, Augeo, Allied Solutions, AXIS Data Solutions, Corporate One FCU, Corporate America CU, Shared Services for Credit Unions, Geiger, AaSys, Equifax and CU 24.
Alison Martin, Event Sales Manager at Topgolf Tampa said, "I truly enjoyed working with the folks at Grow Financial to host the Tampa Chapter of Credit Unions annual golf tournament. It was a gorgeous day and we had a great turnout. I look forward to making it a tradition!"
Photo caption: Grow Financial Federal Credit Union team at Topgolf Tampa.
About Grow Financial
With 27 stores, Grow Financial Federal Credit Union is recognized as one of the leading Credit Unions in the nation with $2 billion in assets.  Originally founded to provide a safe place to save and borrow money for the military and civilian personnel of MacDill Air Force Base, Grow Financial has since expanded membership to include employees of more than 1,100 businesses.  Established in 1955, Grow Financial has its corporate headquarters in Tampa, Florida. For more information visit www.growfinancial.org.
---