Government shutdown helps online criminals
SOUTHBURY, CT (October 7, 2013) – The recent government shutdown has created an opportunity for online criminals. The shutdown has closed a popular consumer education resource (OnGuardOnline.gov ) offered by the U.S. government. The Federal Trade Commission (FTC)  manages the OnGuardOnline.gov web site.  OnGuardOnline.gov is a partner in the Stop Think Connect Campaign, led by the Department of Homeland Security, and part of the National Initiative for Cybersecurity Education, led by the National Institute of Standards and Technology. The FTC closure, due to the government shutdown, has blacked out this important consumer education site.
Here is a screen shot of the onguardonline.gov web site as of October 7, 2013.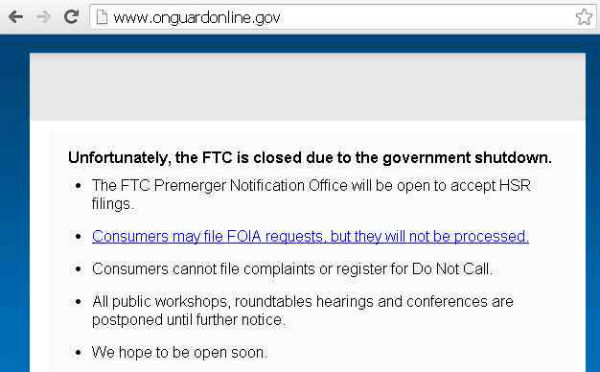 Education remains the most effective tool to combat online fraud.  Everyday thousands of consumers are exposed to scams and knowledge is the key factor in preventing fraud.  Many of the more than 5,000 web sites that link to the FTC site OnGuardOnline.gov are credit unions and those links are currently going to a "closed for business" web page.  Eliminating this important resource enables criminals by providing them more opportunity to scam consumers.
"If the government needs to trim expenses, they can probably eliminate the OnGuardOnline.gov web site altogether", says eFraud Prevention™ Founder, Dan Szabo.  "As a private sector business, eFraud Prevention™, LLC is able to offer a  more comprehensive and reliable consumer education service.  The eFraud Prevention™ service is offered free to consumers through financial institutions web, mobile, print and social media sites.  eFraud Prevention™, LLC (established in 2004) remains unsurpassed in consumer education and is a reliable alternative for up-to-date consumer education and online learning.
About eFraud Prevention™ LLC:
As part of the global effort to combat fraud, eFraud Prevention™ operates a low-cost subscription-based awareness initiative for financial institutions. A free service for consumers provided by financial institutions, eFraud Prevention is the only one of its kind that integrates with Web Sites, Facebook, Twitter, mobile sites and apps.
For over 9 years, eFraud Prevention™ has been helping credit unions successfully educate their members. Services provide support for credit union Presidents, CEOs, CFOs, Marketing, Compliance, Trainers, IT and Customer / Member Relations Personnel.   Reducing costs while increasing value are just a couple of the benefits to outsourcing with eFraud Prevention.
Credit Unions interested in learning more about eFraud Prevention™, can visit http://www.efraudprevention.com
---