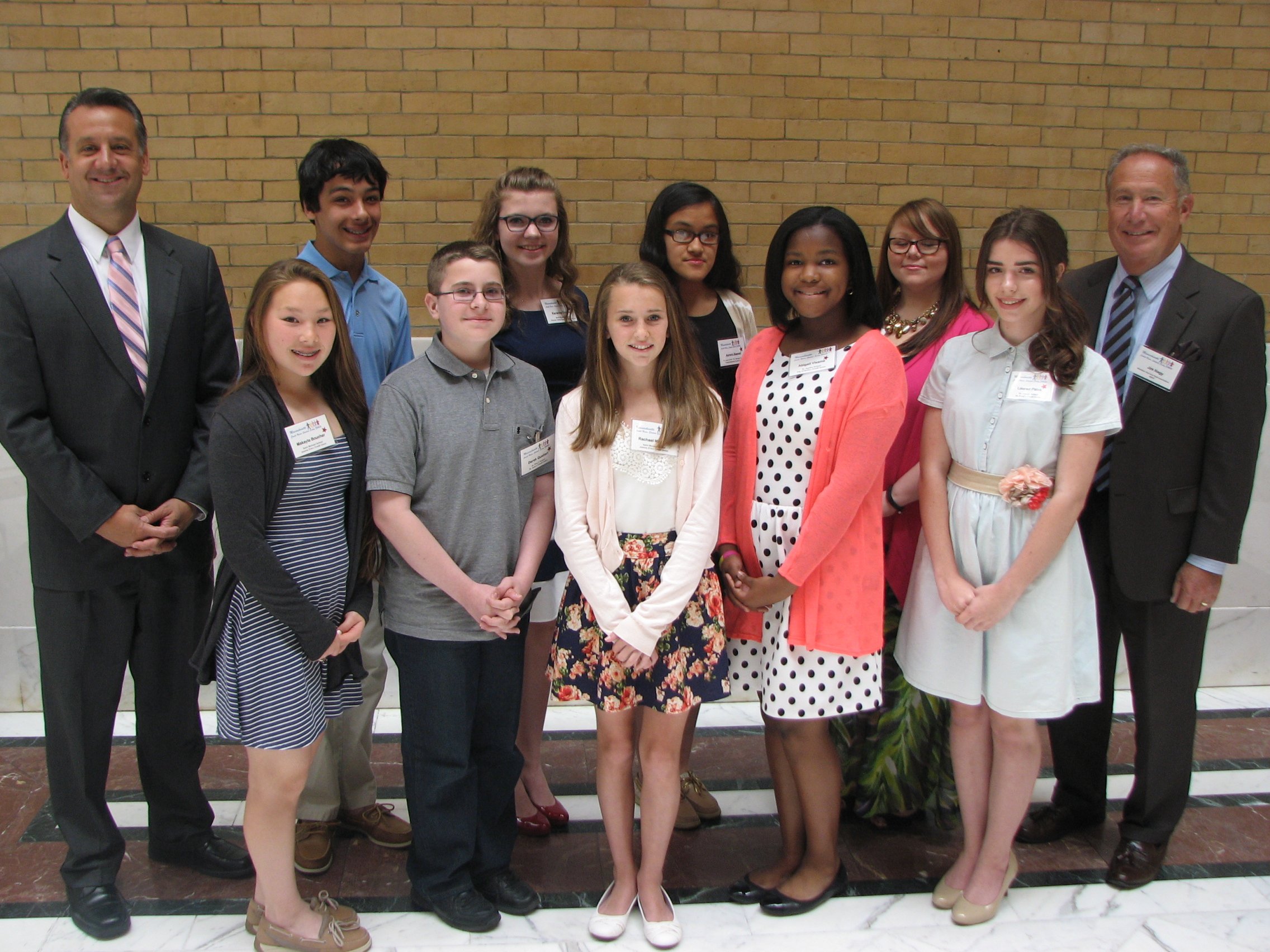 Grade school pupils bring their winning credit union student essays to the Massachusetts State House
BOSTON, MA (May 22, 2015) — They were given this theme: as a young adult, what do you think is the most important lesson credit unions can teach young people about managing their financial lives that will help them as they grow into adults with careers and families? They responded by writing essays on the importance of saving for college, understanding credit card terms and major purchases, establishing a budget, and having an early start when saving for retirement.
However, an eighth-grade student at St. Michael School in Lowell, Mass., decided to take a slightly different approach. She pointed to the threat of impulsive spending and the importance of understanding wants versus needs. It was this essay, authored by Rachel Modeski, that topped all the entries submitted to this year's Massachusetts Credit Union Student Essay Contest.
The annual competition, sponsored by the Financial Literacy Committee of the Cooperative Credit Union Association and the Massachusetts Credit Union Share Insurance Corporation, held its annual awards ceremony yesterday in the prestigious Great Hall at the State House in Boston.
Seven finalists and a winner—all in either their seventh or eighth year of grade school—were invited along with their parents, family members, teacher, and credit union sponsor, to attend the special luncheon and plaque-presentation ceremony crowning their achievement.
For her winning effort, Rachel captured the first place prize of $500. Other finalists each received $250. But the recognition was far from over.
Welcoming the students and their families to the awards gathering, Association President Paul Gentile, noted that the essays reflected the core values cherished by all credit unions, particularly financial literacy.
"Financial literacy is a game-changer," he said. "It empowers people to transform their lives, and the understanding of this, as presented by the students in their essays, demonstrates just how important that knowledge can be."
During the luncheon, Gentile introduced Mass. Rep. Alice Peisch, House Chair of the Joint Committee on Education who told the students she read all the essays and was very impressed. She said everyone needs financial literacy, not just young people. Many don't pay attention to what they are spending and they need to, "budget carefully, save and set reasonable goals," she said.
Peisch also commended credit unions for sponsoring the essay contest now in its 25th year, noting the importance of teaching young people about financial literacy.
The Massachusetts State House also provided the perfect venue for students to meet with their local lawmakers, many of whom presented their young constituents with citations heralding their award-winning writing skills.
Senators Donoghue and Keenan, and Representative Chan stopped by, as well as staff from other lawmakers to personally make the presentations. Citations also came from Governor Baker and Treasurer Goldberg.
This year's essay contest award recipients and credit union sponsors are:
Winning Entry — Rachel Modeski, Jeanne D' Arc Credit Union
Finalists — Aurora Basnet, Polish National Credit Union
Makayla Boucher, Jeanne D' Arc Credit Union
Tristan Correia, Jeanne D' Arc Credit Union
Karenna Downs, Pioneer Valley Federal Credit Union
Jack Fox, Massachusetts Institute of Technology Federal Credit Union
Lauren Paiva, St. Anne's Credit Union of Fall River, Mass
Derek Quatieri, St Jean's Credit Union
Abigail Vixama, City of Boston Credit Union
About the Cooperative Credit Union Association
The Cooperative Credit Union Association, headquartered in Marlborough, Mass., promotes the interests of more than 180-member credit unions located throughout the states of Massachusetts, New Hampshire and Rhode Island. The Association is, first and foremost, an advocate for its members, representing them before Congress and state legislatures, regulatory bodies and the public. It also provides an array of services including educational programs, workshops and conferences; a digital Daily CU Scan to brief its members on all the latest news and issues facing credit unions; and, through its CU Connectprogram—a select group of service providers—and a number of system partners, works to advance the availability of their services to its members. For more information, visit CCUAssociation.org.
Photo caption:L-R: L-R: Association President Paul Gentile; students Makayla Boucher, Tristan Correia, Derek Quatieri, Karenna Downs, Rachel Modeski, Aurora Basnet, Abigail Vixama; Erika Morin, Mass. Credit Union Share Insurance Corporation; student Lauren Paiva; and Jim Nagy, Mass. Credit Union Share Insurance Corporation.
---