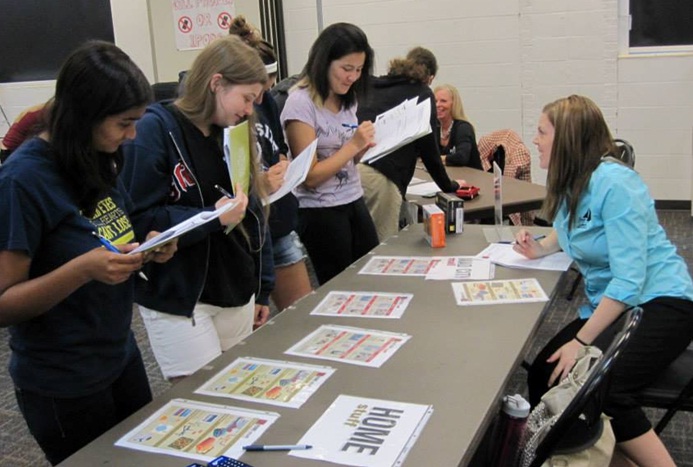 Great Lakes Credit Union celebrates a year of service
(January 27, 2014) — Great Lakes Credit Union (GLCU) wrapped up 2013 having served its local communities in a big way.  GLCU staff, Board members, Senior Management and members joined together sponsoring, participating in and volunteering at community events throughout the year.
GLCU continued to maintain its strong commitment to youth financial literacy.  During 2013, GLCU conducted 56 youth financial education events impacting 3,548 local students through programs like Biz Kid$ – where kids teach kids about money and business, and  their budget simulation program for high school students called "Mad City Money".
Also for kids and parents, GLCU organized a Child Safety Fair where parents received identity toolkits and the opportunity to have their kids fingerprinted by police department volunteers.  Parents and kids both learned the importance of safety and anti-bullying.
For the third consecutive year, GLCU conducted "Stuff the Bus" – an event that provided local students in need with new school supplies.  Three recipient schools in GLCU communities were overwhelmed to receive over $700 in cash donations along with much needed school supplies for their students.
The Credit Union industry motto of People Helping People galvanized GLCU staff around the Credit Union's fourth annual "Make a Difference Day" celebration where their 200+ employees were each given $10 to pay it forward as part of a series of "random acts of kindness" throughout the local community.
For the fifth year in a row, GLCU conducted holiday food drives at all branches along with a warm clothing drive that culminated with the Credit Union's sponsoring and serving of the "Giving Dinner" – a warm holiday buffet for approximately 300 low-income and homeless individuals who were encouraged to attend by local missions and shelters.
Throughout 2013, GLCU partnered with numerous community organizations either providing volunteers or as an event sponsor.  Those organizations included MainStreet Libertyville, the Lake County Forest Preserve District, the Village of Antioch, the Gurnee Park District, Round Lake Beach Park District, the Waukegan Park District, the Zion Park District and the YWCA Lake County.
---