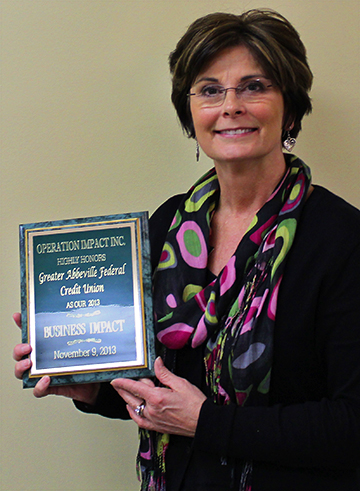 Greater Abbeville Federal Credit receives "Business Impact" Award
ABBEVILLE, SC (November 21, 2013) — Greater Abbeville Federal Credit Union (GAFCU) has been recognized with a Business Impact Award for service to the community by Operation Impact. The award was presented on November 16th at the organization's 20th Annual Awards Banquet.
"Our mission is to support and develop leadership in the community as well as support educational endeavors," Operation Impact member Claude Thomas said. "We try to support the community in any way that we can."
Operation Impact cited GAFCU for their community service in several areas:
Support of workers whose jobs were terminated at the Mohawk plant in 2012 by offering refinance of loans and deferred payments during their layoff.
Teacher Grants offered to Abbeville County Schools in 2013.
Financial counseling classes  led by GAFCU in 2013.
"We are honored to receive this award from Operation Impact," said Faye Crocker, CEO of Greater Abbeville FCU. "Our sole mission is being the source of hope for a financially secure future for the people of Abbeville County."
Operation Impact, founded in 1991, is an organization for men with a focus on community service. Operation Impact has about 20 members.
---