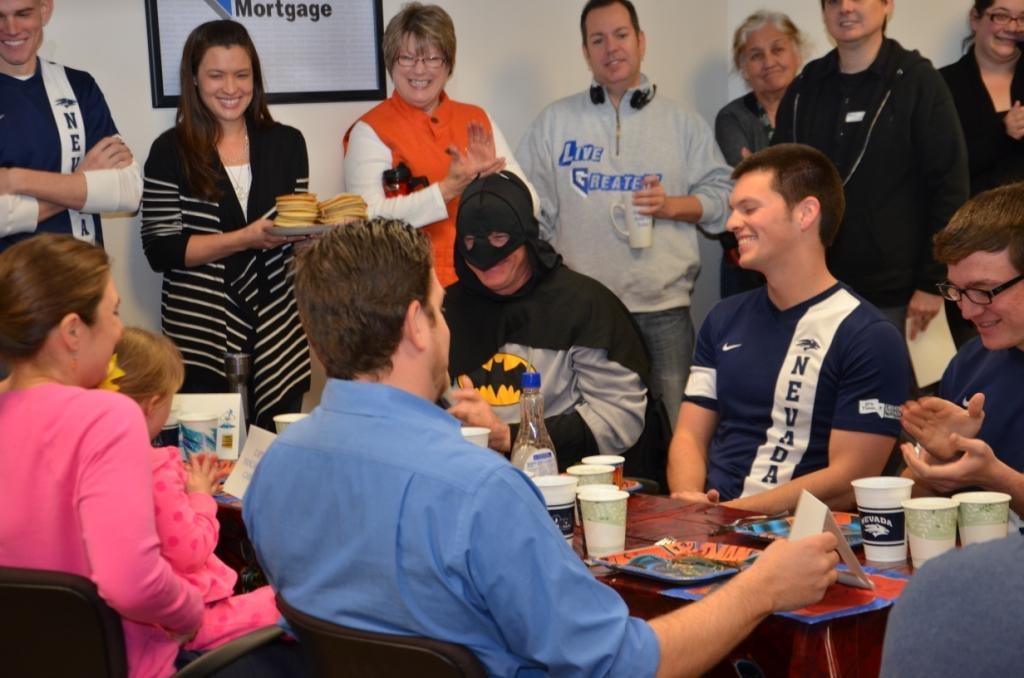 Greater Nevada Credit Union versus University of Nevada Marching Band pancake eating contest raises funds for Special Olympics
RENO, NV (March 14, 2014) — Greater Nevada Credit Union (GNCU) employees recently competed against University of Nevada Wolf Pack Marching Band members, as well as Special Olympics athletes, to see who could eat the most pancakes. The pancake-eating contest, held annually at the credit union's Carson City and Reno locations, is a fundraiser for Special Olympics Nevada's Polar Plunge, scheduled this year for March 29 at Zephyr Cove in Lake Tahoe.
Special mention goes out to this year's pancake eating contest gold medal winner, GNCU's VP of Finance, Rick "Batcakes" Hassman, who managed to wolf down 14 pancakes in 3 minutes (and was still eating after the buzzer rang).   Check out the  video of the event posted by the Reno Gazette Journal.
The contest helped contribute toward the $6,500 that  Greater Nevada's Polar Plunge Superheroes team has raised to date.
For more information about this year's Polar Plunge, visit www.gncuforsonv.org. For more information about Greater Nevada Credit Union, visit gncu.org.
---