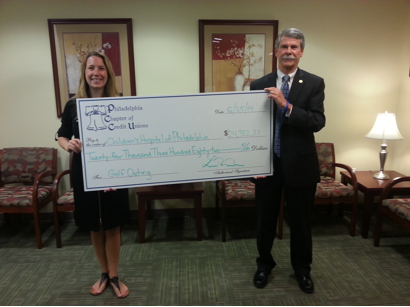 Greater Philadelphia Credit Union golf outing & CO-OP's Miracle Match raise donations for The Children's Hospital of Philadelphia
WARMINSTER, PA (July 22, 2014) — Participants and sponsors in the 28th Annual Greater Philadelphia Credit Union Golf Outing raised over $14,000 for The Children's Hospital of Philadelphia's (CHOP). Miracle Match from CO-OP Financial Services matched $10,000 of this donation, for a total of over $24,000 in charitable funds for CHOP's research efforts.
Hosted by the Philadelphia Chapter of Credit Unions, and organized annually in memory of Michael F. Ambrose, Jr., the outing took place Thursday, June 12th at the Westover Country Club in Jeffersonville, PA.  With sponsors including Freedom Credit Union, other Philadelphia-area credit unions, and credit union vendors, the golf outing has raised more than $272,000 for The Children's Hospital of Philadelphia since its inception in 1986.
Freedom President & CEO Lee T. MacMinn said, "The Golf Outing is a great opportunity for credit unions in the Philadelphia area to work together to raise necessary dollars for important research. CHOP's commitment to helping kids is one that local credit unions are proud to support."
About Freedom Credit Union
Freedom Credit Union, chartered in 1934, is a community-based, full-service financial institution that offers a banking alternative to consumers. Anyone who lives, works, worships, performs volunteer service, or attends school in Bucks, Chester, Delaware, Montgomery, or Philadelphia Counties is eligible to use its services. Freedom Credit Union has over $650 million in assets and more than 62,000 members, operating branch offices in Abington, Lansdale, Philadelphia and Warminster, Pennsylvania.
Like Freedom on Facebook.
Follow Freedom on Twitter. 
Subscribe to Freedom's channel on YouTube.
About CO-OP Financial Services
Based in Rancho Cucamonga, Calif. and founded in 1981, CO-OP Financial Services is the industry leader in access and convenience products for credit unions. CO-OP connects credit union members to their accounts through network, payment processing, e-commerce, shared branching and call center services. With more than 3,500 credit union members, 30 million cardholders, 30,000 surcharge-free ATMs, 4,600 shared branching locations (plus 2,200 Vcom® kiosks) and more than two billion annual transactions, CO-OP Financial Services offers the tools, counsel and leadership to help credit unions prosper. To learn more, visit www.co-opfs.org.
---