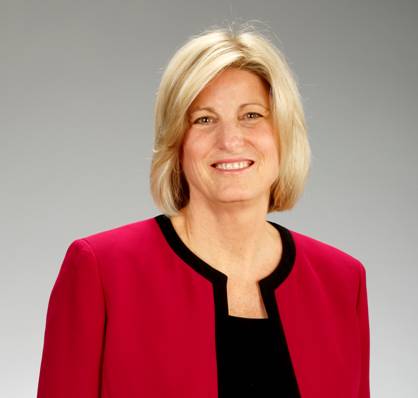 Greylock president to retire in 2015
PITTSFIELD, MA (October 28, 2014) — Greylock Federal President & CEO Marilyn L. Sperling has announced her plans to retire at the end of 2015.
Sperling said the timing of her announcement was intended to enable the Board of Directors to plan an orderly and effective search for a replacement. "The credit union is in a very strong financial position; we continue to enjoy strong market share; and the caliber of our employees and their work ethic is the best it has ever been," Sperling said. "The next CEO will be leading from a very solid foundation."
Greylock Board Chairman Jerry Burke praised Marilyn's leadership over the past 4 years. "During the transition in 2010 we were fortunate to have a highly capable leader in Marilyn who was fully prepared to step into the role of CEO," Burke said. "She has skillfully steered Greylock through the Great Recession. I am happy to say we are on the other side of those challenges now.  I am sure that in her final year as CEO we will have opportunities to reflect on her considerable contributions to this institution and to this community."
Burke acknowledged that the 2015 retirement was long planned. "When we asked Marilyn to take on the role of CEO, she was very up front about her plans to retire in 2015," Burke said. "We would love to see her continue her successes here at Greylock but we respect her plans and appreciate the ample notice she has provided." Burke said he has established a Search Committee headed by long-time Board member and former Chair Sheila Labarbera. The committee will oversee a comprehensive CEO selection process, evaluating internal candidates, candidates from the local market and from around the country. To facilitate the process the committee has retained the services of D. Hilton Associates, a well-respected consulting firm that has conducted more than 3,000 successful credit union executive searches. D. Hilton is considered the top recruiter for CEO searches among credit unions close to Greylock in asset size.
Sperling has established a distinguished 40-year career as a financial services professional in Berkshire County. Long recognized as the foremost real estate lender in the region, she established Greylock Federal Credit Union as the top mortgage lender in Berkshire County. In 2003, Sperling was named Greylock's first woman senior vice president and held responsibility for Greylock's entire branch network. She was named President and CEO in 2010.
In 2011 she was named a "Woman of Achievement" by Berkshire Business and Professional Women. In 2014 she was named a "Woman of FIRE" by Banker & Tradesman magazine, recognized as a key female leader in the local FIRE (Finance, Insurance and Real Estate) sector. In the same year she received the "Community Leader Award" from Berkshire County Kid's Place.
Sperling is also recognized as a mentor for women in business, supporting the career development of hundreds of other banking professionals during her career. She was honored with the "She Knows Where She's Going" Award by the Gladys Allen Brigham Community Center (then Girls Inc.) in 1998. She serves on the boards of the Berkshire Business Roundtable; Berkshire Health Systems; Massachusetts Credit Union League; Pittsfield Boys & Girls Club; and is a member of the Massachusetts Department of Revenue Advisory Council.
Sperling lives in Pittsfield with her husband, Steve. She has one son who lives in South Carolina, and a grandson.
About Greylock Federal Credit Union                                             
Greylock membership is open to anyone who lives, works, attends school, worships or regularly conducts business in Berkshire County, Massachusetts. With assets over $1 billion, Greylock Federal is wholly owned by its more than 70,000 members and offers full-service branches in Pittsfield, Great Barrington, Lee, Adams, North Adams, Williamstown and Lanesborough. Greylock's family of businesses includes:
• Greylock Insurance Agency with six locations county-wide, handles commercial and personal lines including auto, homeowner's, life, disability, long-term care insurance, all forms of bonding, and 24/7 claims service.
• Greylock Investment Group with offices in Pittsfield offers access to a full array of services including financial planning, retirement planning, investment management, mutual funds, annuities and portfolio management.
• Greylock Marketing Group in Pittsfield is a full-service advertising agency dedicated to helping other credit unions, businesses and not-for-profit organizations meet their communications and marketing objectives. 
• Greylock Technology Group provides programming and IT consulting for financial institutions.
• Greylock's Employee Benefits Services offers comprehensive consultation and brokerage services for group medical, dental, life and disability insurance. 
More information is available online at www.greylock.org.
---