Grzegorz Bierecki Named World Council Chair at 2013 World Credit Union Conference
OTTAWA, CANADA (July 17, 2013) — Grzegorz Bierecki, president and CEO of the National Association of Co-operative Savings and Credit Unions (NACSCU), Poland's credit union trade group, has been named chair of World Council of Credit Unions' board of directors. Bierecki, who succeeded outgoing chair Manuel Rabines, general manager of Federación Nacional de Cooperativas de Ahorro y Crédito del Perú (FENACREP), formally accepted the chair's chain of office during the World Credit Union Conference general session on Tuesday in Ottawa.
"A very long time ago, I chained myself to credit unions," said Bierecki, a Solidarity activist who was jailed for his political activity under Communist rule. "It was 24 years ago when I saw these words describing the credit union philosophy on the wall of a Kansas building — not for profit, not for charity, but for service. It was [with] this sentence that my study of credit unions began."
">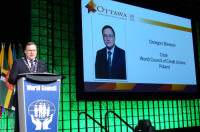 "Working together with international institutions developing regulations, influencing credit unions and supporting their work. That is the task that no one will perform better than the World Council of Credit Unions," said incoming World Council Chair Grzegorz Bierecki.
Bierecki has played a key role in the rebirth of Poland's credit unions — or SKOKs as they are known in Poland — which in the course of 15 years became the largest non-bank financial network in the country. Bierecki has led Poland's credit union system as president of NACSCU since 1992. Today, 55 credit unions in Poland serve 2.6 million members under a unified marketing brand from a central back-office platform.
"Credit unions are an example of love acting in the economy," Bierecki told the audience as he applauded their dedication toward helping others. "If love is intelligent, it can find a way to act that is prudent, right and profitable. I ask that you do not ever run out of such a love."
New World Council directors at the 2013 annual general meeting Monday afternoon included the elected Oswaldo Oliva Vidal, CEO of Federación Nacional de Cooperativas de Ahorro y Crédito de Guatemala; and Steven Stapp, president and CEO of San Francisco Federal Credit Union, who was appointed by the U.S. Credit Union National Association (CUNA).
">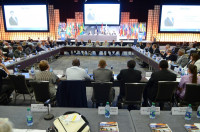 World Council of Credit Unions' 2013 annual general meeting included member organization delegates from more than 30 countries.
World Council also recognized its new direct member, the Islamic Investment and Finance Cooperatives Group of Afghanistan, at the annual general meeting. New associate members included Credit Union Executives Society and The Members Group, both in the United States.
World Council presented member awards to recognize growth in assets and membership in 2012. The Outstanding Asset Growth Award was given to Confederação Interestadual das Cooperativas Ligadas ao Sicredi of Brazil. The Outstanding Membership Growth Award was presented to CUNA for highest absolute growth and to Kenya Union of Savings & Credit Co-operatives for highest relative growth.
The World Credit Union Conference runs through July 17. Follow conference activities, including daily event photos, on World Council's Facebook and Twitter pages at www.facebook.com/WOCCU and www.twitter.com/WOCCU using #WCUC2013.
World Council of Credit Unions is the global trade association and development agency for credit unions. World Council promotes the sustainable development of credit unions and other financial cooperatives around the world to empower people through access to high quality and affordable financial services. World Council advocates on behalf of the global credit union system before international organizations and works with national governments to improve legislation and regulation. Its technical assistance programs introduce new tools and technologies to strengthen credit unions' financial performance and increase their outreach.
World Council has implemented more than 290 technical assistance programs in 71 countries. Worldwide, 56,000 credit unions in 101 countries serve 200 million people. Learn more about World Council's impact around the world at www.woccu.org.
---