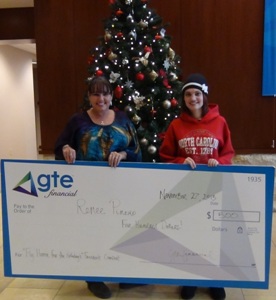 GTE Financial announces their "fly home for the holidays" promotion winner
TAMPA, FL (December 11, 2013) —  GTE Financial announced Renee P. of Tampa, a GTE member of five months, as the random winner of their "Fly Home for the Holidays" Facebook promotion. Over 300 GTE Financial Facebook fans entered to win by sharing their stories of who they would like to visit or fly home to be with this holiday season.
Renee will be using her $500 prize to fly her daughter Cheyenne, who is in Tennessee attending her first year in college, home this Christmas. "I just can't express how much this means to me," Renee says. "I was already missing her so much that I flew her home for Thanksgiving, and I had no idea how I was going to afford to see her again at Christmas. GTE has given us the best gift ever." Renee came straight to GTE's headquarters to claim her prize after picking her daughter up at the airport, one day before Thanksgiving.
"Our goal has been to reach 15,000 Facebook fans by the end of the year so we've focused our efforts on creating more engaging and meaningful Facebook promotions to help us get there," says Mandy Zurbrick, vice president of Member Marketing and Promotion of GTE Financial. "While everyone loves adorable photos of cats, we learned with this promotion that people are much more compelled to interact with us on Facebook and share us with their friends when they have the opportunity to get personal. It was so heartwarming to read people's stories and it feels incredible to truly touch a member's life in such a powerful way."
GTE's "Fly Home for the Holidays" promotion proved successful in helping them near their goal of 15,000 likes, garnering 1,673 new Facebook fans during the course of the promotion's seven week run. The promotion was advertised on GTE's Facebook page as well as on their homepage, online banking logout page, current offers page, in their monthly email newsletter, on their mobile banking site, and on video posters at each of their 21 locations.
About GTE Financial
GTE Financial is a not-for-profit financial cooperative with more than $1.6 billion in assets and 21 Community Financial Centers located throughout West Central Florida. Chartered in 1935, GTE Financial is locally owned and operated in the Tampa Bay area, serving more than 212,000 individuals and businesses. More information on GTE Financial can be found atwww.gtefinancial.org.
---