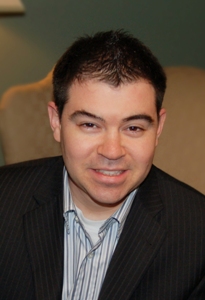 GTE Financial promotes Cisco Malpartida Smith to Vice President of Member Strategies
TAMPA, FL (November 26, 2013) — As GTE Financial continues their focus on and expansion of member-focused strategies, Cisco Malpartida Smith has been promoted from his current position of Assistant Vice President of Strategic Planning to Vice President of Member Strategies to lead GTE's strategic business needs.
After four years at Boeing Employees' Credit Union (BECU) in Seattle, WA.  Smith was excited to bring his passion for advocating the financial well-being of members alongside his segmentation, product, and market development experience to GTE Financial in 2011.
Over the past two years, Smith has successfully launched a number of student-focused initiatives. "Cisco has shown through his prior accomplishments and here with GTE that he has an unrivaled talent with developing college student segment strategies," says GTE Financial President and CEO Joe Brancucci.
Smith looks forward to leading a number of additional strategies in his new role as vice president to continue to help GTE Financial best serve its members. "GTE has been on an incredible transformational journey, where our story continues to develop," says Smith. It's an honor to be a part of this evolution, seeing what we do make such a difference in the lives of our members."
Smith is active in the Tampa Bay community, serving as a director on the board of the Hillsborough Community College Foundation, the University of Tampa's Board of Fellows, and Seattle University's Alumni Board of Governors. He has also served as the Director and Chair of the Marketing Committee of the Bellevue College Foundation, and the as a director of Seattle University's Albers Business School Entrepreneurship Center Advisory Board. Smith has a B.A. in Political Science from Seattle University.
About GTE Financial
GTE Financial is a not-for-profit financial cooperative with more than $1.6 billion in assets and 21 Community Financial Centers located throughout West Central Florida. Chartered in 1935, GTE Financial is locally owned and operated in the Tampa Bay area, serving more than 2012,000 individuals and businesses. More information on GTE Financial can be found at www.gtefinancial.org.
---