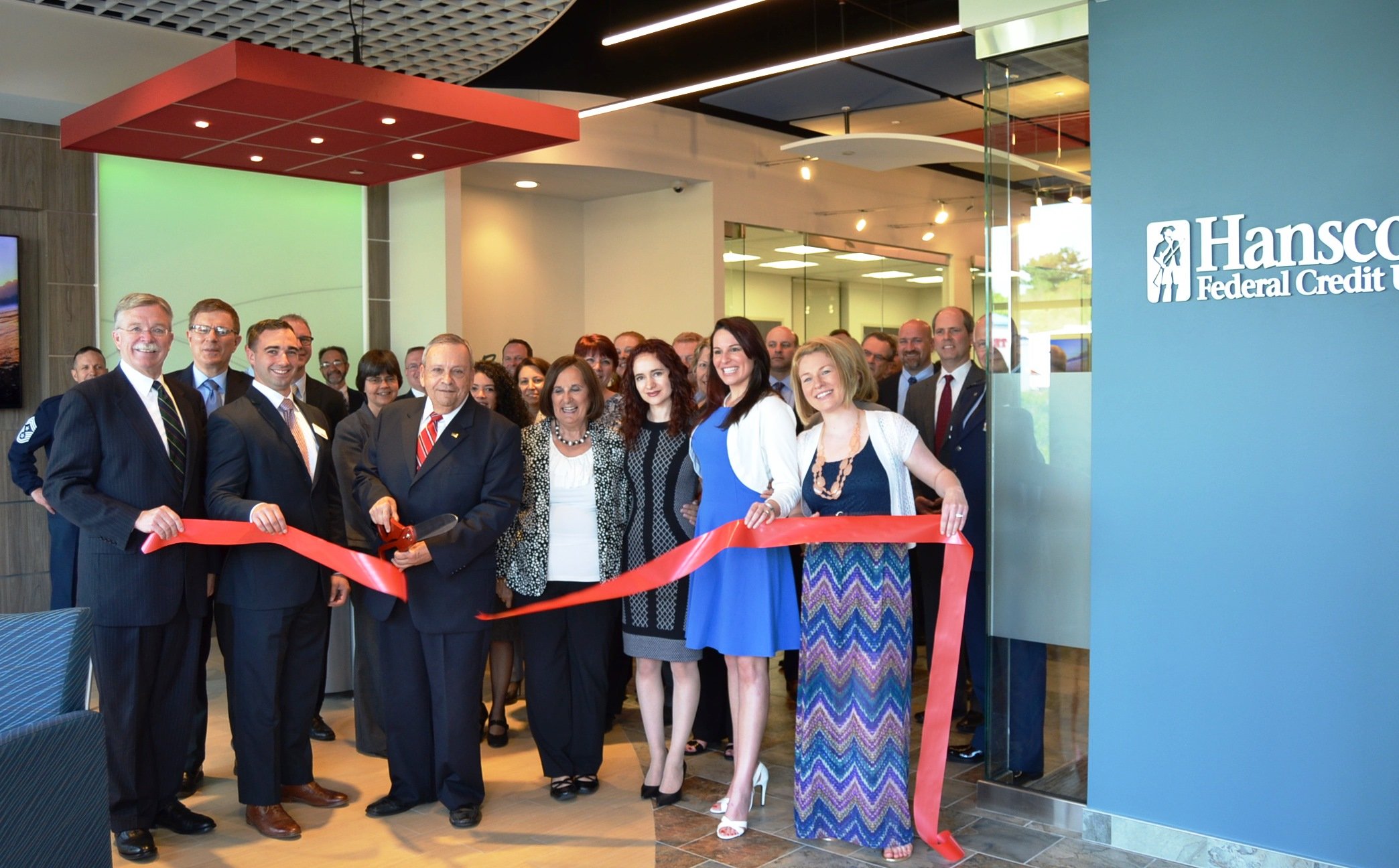 Hanscom FCU opens new branch in Burlington, Mass.
Technology, Expanded Hours Combine with Personal Service
BURLINGTON, MA (May 18, 2015) — Hanscom FCU held a grand opening event today for its new branch. The branch, located at 47 Middlesex Turnpike, Burlington, MA combines the credit union philosophy of putting people first with smart new technology.
"We are calling this our iBranch," said Chairman of the Board Paul Marotta. "When you visit, we invite you to interact, to be informed and to be inspired to get the most from your credit union membership.
Unlike a traditional branch with a teller line and service reps sitting at desks, visitors are greeted by a member concierge when they enter. The concierge greets visitors and stays with them until all business is completed. "The concierge is not someone who tells you where to go, but helps you get to your destination," explained branch manager Anna Metrik.
Team members use tablets so they can work side by side with members. Visitors can use the tablet bar to explore Hanscom FCU's digital offerings, email a brochure to themselves or a family member, or get a demonstration of online check deposit, online loan application and account access.
The ATM, available anytime, dispenses $1, $5, and $20 bills. It also accepts deposits without an envelope and gives you an image of the front of your check. The coin counter, a popular service, is free for members. Free, secure Wi-Fi is also available to use during a visit.
The location, near several shopping destinations and directly off I95, has expanded hours, including Saturdays. "Our goal is to provide a true retail experience. That includes being available when it's convenient for our members and visitors," Marotta observed.
"Our previous Burlington location was in an office park off the beaten track," noted Marotta. "This new space is large enough to include meeting rooms for small and large groups." Hanscom FCU regularly offers free seminars on important financial topics.
Photo caption: Hanscom FCU staff and officials welcomed visitors to a new location in Burlington, MA. Pictured in front, left to right, are: David Sprague, President/CEO; James Sullivan, Member Concierge; Chairman of the Board Paul Marotta; Elaine Jones, VP Branch Administration; Anna Metrik, Branch Manager; Diana Mautino, Member Concierge; and Ashley Netishen, Assistant Branch Manager.
Hanscom Federal Credit Union, headquartered at Hanscom Air Force Base, Mass., serves 56,915 members across the country and overseas through 17 branches, over 100,000 service centers and surcharge-free ATMs, 24-hour telephone service and a web-based branch. The credit union holds over $1 billion in assets.
Hanscom FCU offers members an array of products and services, including free checking and savings accounts, consumer loans and credit cards, investment and insurance services, and mortgages for primary, secondary, and investment properties.
---