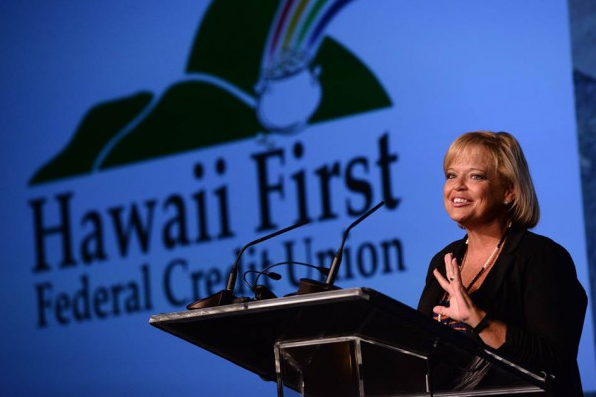 Hawaii First Federal Credit Union wins Penultimate Award for CDFIs serving native communities
Hawaii First staff also becomes Community Development Certified Financial Counselors, NCBA's award-winning program, to help members make smart financial decisions.
TACOMA, WA (December 11, 2014) — Hawaii First Federal Credit Union has won the penultimate award for Community Development Financial Institutions (CDFI) serving native communities: The Circle of Honor Award. CDFI grant writing firm CU Strategic Planning wrote the award, and has written all of Hawaii First's CDFI and NACA Award winning applications totaling $2.3 million since the credit union became CDFI certified in 2007. The Circle of Honor Award recognizes a Native CDFI that is successfully increasing access to capital and financial resources in native communities.
Hawaii First recognized the need for a one-stop shop where it could provide tools and resources to promote self-sustainability, such as: access to a computer, help looking for a job, creating a resume, small business startup and development, enrolling in college, preparing taxes, setting up a budget, access to affordable credit, foreclosure prevention, social services, etc.
"Instead of asking why? We started to ask why not?" stated Hawaii First CEO Laura Aguirre, as she was presented the award at the Opportunity Finance Network Conference in October (2014), who, along with First Nations Oweesta Corporation, sponsored the award. "We didn't need to wait for someone else to put a community resource center in place; we could be a socially responsible credit union and make it happen right now."
According to Aguirre, to ensure the success of its staff CRCs, the credit union required each employee to complete National Cooperative Business Association's (NCBA) award-winning Community Development Certified Financial Counselor program. Hawaii First's newly trained employees can use this knowledge to make smart financial decisions in their own lives and also use it to empower community members.
"At every point of contact, whether at its branches or CRCs, an individual can receive one-on-one financial counseling," Aguirre says. "There is no waiting to see a loan officer or the manager for assistance or hope."
In 2013, the CDFI awarded $12.4 million in funds via Native American CDFI Assistance program (NACA) to 35 organizations – three were credit unions. Two of those three credit unions are CU Strategic Planning clients that received more than $1.1 million: Hawaii First Federal Credit Union ($524,000) and The Queen's Federal Credit Union($659,000).
"This is a huge honor for Hawaii First and we couldn't be more proud to help serve them in this capacity," says CU Strategic Planning Founder Jamie Chase. "It lends so much credibility, worth, and significance to the efforts Hawaii First is employing on a daily basis not only to help its own employees but its own community. It only makes everybody better. It's that simple – and powerful."
About the CDFI Program
Through the CDFI Program's Financial Assistance and Technical Assistance awards, the CDFI Fund invests in and builds the capacity of for-profit and non-profit community based lending organizations known as Community Development Financial Institutions, or CDFIs. These organizations, certified as CDFIs by the U.S. Treasury Department, serve rural and urban low-income people and communities across the nation that lack adequate access to affordable financial products and services. Awards are granted through an annual competitive application process. Learn more about the CDFI Program at www.cdfifund.gov/cdfi.
About National Cooperative Business Association
Founded in 1916, NCBA's mission is to develop, advance and protect cooperative businesses and to demonstrate the power of the cooperative business model to achieve economic and social impacts. As the apex organization representing the interests of the US cooperative community, NCBA's portfolio includes programs and services that meet the shared advocacy, education and communications needs of a cross-sector US cooperative community that includes agriculture, child and home care, energy and telecommunications, insurance and financial services, food distribution, healthcare, housing, and wholesale and retail purchasing and distribution. In addition to its work domestically, NCBA's CLUSA International program has been engaged in cooperative and sustainable business development in over 100 countries for 60 years. The current CLUSA portfolio includes over 20 development projects in 15 countries. For more information, visit www.ncba.coop.
About CU Strategic Planning
Headquartered in Tacoma, WA, with satellite offices in San Diego and Boston, CU Strategic Planning is the only strategic planning facilitator in the United States with the mission to help credit unions realize their potential through the International Credit Union Operating Principles. It is widely considered the #1 writer of credit union Community Development Financial Institution (CDFI) grant applications. No firm serving credit unions writes and wins more CDFI awards than CU Strategic Planning.  Its "Miracle Makers" have 100 percent success with CDFI certification. For more information, visit www.creditunionstrategicplanning.com.
---