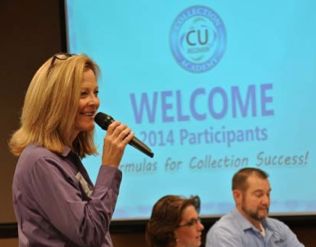 Helping credit union collection departments succeed with inspiring educational sessions
WYOMING, MN (October 21, 2014) — CU Recovery's 2014 Collection Academy was another successful exchange of information on how credit unions can increase effectiveness in their collection departments. The sold out crowd included 73 credit unions from 23 states, with many credit unions sending several people to take advantage of the rich content found in 4 separate sessions. Wendy Elieff, Vice President of Sales & Service, facilitated the 2 1⁄2 day conference. According to Elieff, the purpose of the conference was to "educate, inspire and instigate
attendees in managing their departments with topics of interest presented by some of the best experts in their fields." "It was also a time to meet with peers and the experts conducting the sessions to compare notes and find collection solutions that work for credit unions of any size." Wendy continued.
Participants found the pre‐session tour of CU Recovery headquarters to be a substantial visual illustration of the values and commitment of the CU Recovery/ Loan Service Center staff. Attendees were anxious to try out valuable tips on using the Internet as a research resource and to protect sensitive information. Illustrations, exercises and discussions were conducted by experts on complex interpersonal issues. In one session, the topic involved counseling members on realistically balancing their obligations. In another, managing communication and resolving conflict in the workplace to create a strong bond with staff was presented. The final session was an interactive report on successful repossession and remarketing techniques by a credit union peer.
The next CU Recovery Collection Academy is scheduled for October 21‐23, 2015 and will feature topics designed to increase the productivity and effectiveness of credit union collection departments.
About CU Recovery & the Loan Service Center
CU Recovery, Inc. is a full service collection agency, working exclusively for credit unions, dedicated to maximizing recoveries on charged off loans. The Loan Service Center, Inc. provides staffing solutions for credit union collection departments to minimize losses on their delinquent active loan portfolio. The CU Recovery Collection Academy is a resource for continuing education to assure the success of Credit Union collection departments in meeting their member service and delinquency reduction goals. For more information: www.curecovery.com 
---