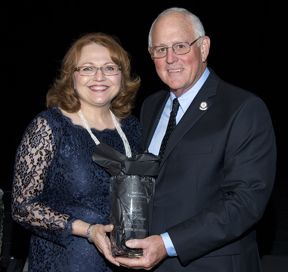 Heritage FCU President/CEO Ruth Jenkins inducted into Indiana Credit Union League Hall of Fame
Ruth Jenkins, CCE, CUERME, President & CEO of Heritage Federal Credit Union receives her ICUL Hall of Fame Award from Indiana Credit Union League Chairman Dave Fleming at the ICUL 80th Annual Convention held in Indianapolis, IN at the JW Marriott, October 17, 2014. 
NEWBURGH, IN (October 24, 2014) — Heritage Federal Credit Union is proud to announce that Ruth Jenkins, CCE, CUERME, President & CEO has been inducted into the Indiana Credit Union League Hall of Fame on October 17, 2014.
Ruth was recognized for her 33-year career in the credit union movement and for her impact on the financial futures of thousands of credit union members in multiple states.
Her contributions to Indiana's credit unions have included service on the Board of Directors of the Indiana Credit Union Foundation, where she currently serves as Vice Chairman, and on the League's Governmental Affairs Committee and its Convention Committee where she has been actively involved in several initiatives.
Ruth's commitment to the members of the credit unions she has led, and to the communities they have served, has been apparent through numerous projects focused on families, children, education, volunteerism, and financial literacy.
She has enthusiastically dedicated her professional life to credit unions and their "People Helping People" philosophy.
At Heritage Federal Credit Union, Ruth has developed a strong team, unique products and programs, an excellent focus on member service and a strong community outreach.
About Heritage Federal Credit Union
Heritage Federal Credit Union offers financial products and services to anyone who lives, works, worships or attends school in Vanderburgh or Warrick County, or has an immediate family member who does.
Heritage Federal Credit Union is a community-chartered Federal credit union with over $464 million in assets and serves more than 46,488 members, and operates seven branches in Vanderburgh and Warrick Counties in Southwestern Indiana. More information regarding Heritage Federal Credit Union can be located at www.hfcu.info
---