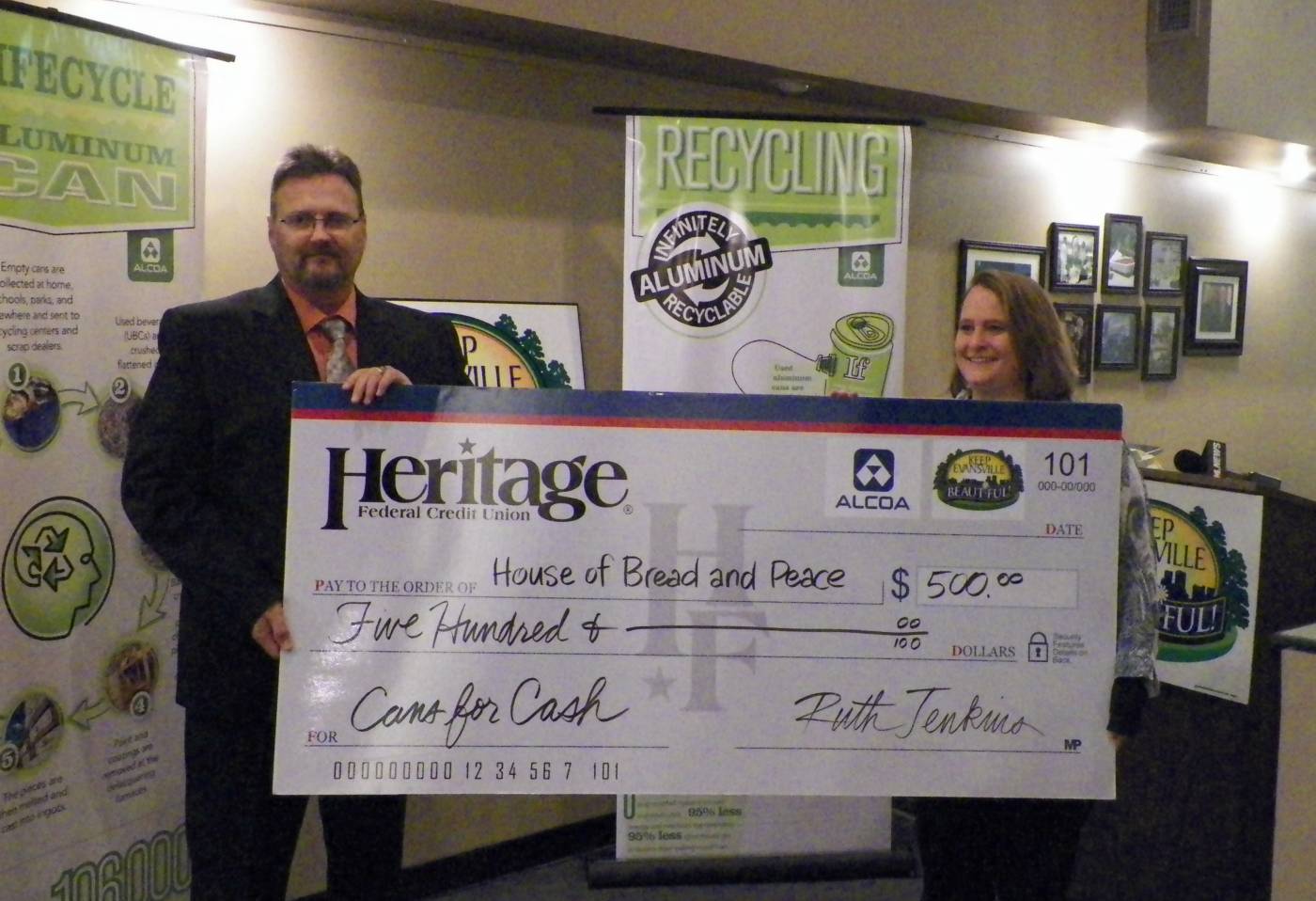 Heritage Federal Credit Union awards checks to 2013 CANS for CA$H winners
NEWBURGH, IN (November 19, 2013) — Heritage Federal Credit Union awarded checks to the 2013 CANS for CA$H contest winners at the Keep Evansville Beautiful headquarters on Friday, November 15th, 2013.
The CANS for CA$H program (sponsored by Heritage Federal Credit Union, Alcoa Warrick Operations, and Keep Evansville Beautiful) ran from September 17, 2013 – November 12, 2013 and collected 2,083 lbs. of aluminum cans at the two participating recycling centers, Material Recycling, Inc. and Tri-State Resource Recovery.  Those who participated in the contest received payment for the cans they brought in to recycle, but they also were given the opportunity to nominate a non-profit organization or charity of their choice to receive a cash prize.  44 recyclers participated and 37 different schools and organizations were nominated for a chance to win the $200, $300, or $500 cash prizes.
The 2013 CANS for CA$H contest winners are:
– $200 – Resurrection Catholic School
– $300 – Special Olympics of Vanderburgh County
– $500 – House of Bread and Peace
"At the credit union, we are dedicated to making our Vanderburgh and Warrick communities a cleaner, more beautiful, more environmentally-friendly place," Heritage Federal Credit Union CEO Ruth Jenkins said.  "Through programs like this, we can help educate our families and communities about the importance of recycling for our environment, and how each of us can make a difference for a better world by recycling."
According to a KEB news release, aluminum is the most recycled consumer packaging material on earth, but the U.S. is lagging behind other nations in recycling the material.  Aluminum can be recycled an unlimited amount of times with a used can being back on the grocery store shelf in less than 60 days.
For more information, please call Steve Bugg, Chief Marketing and Member Service Officer, at 812-853-7306 ext. 2267.
About Alcoa Warrick Operations
Alcoa Warrick Operations is an integrated facility housing a 269,000 metric ton per year (mtpy) primary aluminum smelter and Global Packaging division that produces aluminum sheet for beverage and food can ends, tabs, and other flat-rolled aluminum products, such as lithographic printing sheet. The facility is the world's largest producer of coated container sheet and the only North American supplier of high-quality lithographic sheet. An economic impact study conducted by the University of Southern Indiana's Center for Applied Research shows that Warrick Operations generates $6.6 million in daily output value to the Evansville Metropolitan Area. The facility includes more than 120 acres of buildings and 14,000 acres in the community. Learn more at www.alcoa.com/warrick.
About Keep Evansville Beautiful
Keep Evansville Beautiful (KEB) is a catalyst for citizen action creating a beautiful, inviting, healthy outdoor environment to assure an improved quality of life and enhanced economic growth for a greater Evansville area. Our programs and services, focusing on litter prevention, recycling and beautification, are made possible entirely through the generosity of individuals, corporations and foundations. 
About Heritage Federal Credit Union
Heritage Federal Credit Union offers financial products and services to anyone who lives, works, worships or attends school in Vanderburgh or Warrick County, or has an immediate family member who does. 
Heritage Federal Credit Union is a community-chartered federal credit union with over $454 million in assets and serves more than 44,900 members, and operates seven branches in Vanderburgh and Warrick Counties in Southwestern Indiana.  More information regarding Heritage Federal Credit Union can be located at www.hfcu.info
---