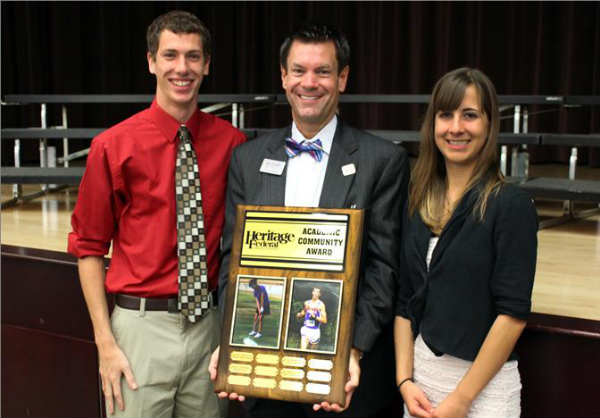 Heritage Federal Credit Union awards University of Evansville student-athlete scholarships
NEWBURGH, IN (September 30, 2013) — Heritage Federal Credit Union has awarded scholarships to two student-athletes at the recent Heritage Federal Credit Union Student-Athlete Academic Honors Breakfast on the University of Evansville campus.
Men's cross country runner Matthew Hamilton and women's golfer Kelly Lamarche were awarded the scholarships, which are for $1,013 each.
"At the credit union, we look for top performers and, in keeping with this philosophy, we looked for the same attributes in selecting the scholarship recipients.  We had a lot of great candidates to choose from for this award," Heritage Federal CEO Ruth Jenkins said.   "Through this award, we are pleased to support those students who exhibit academic achievement, community service and campus leadership.  We congratulate both student-athletes on becoming the second recipients of this annual award."
Matthew Hamilton is a member of the University of Evansville's Cross Country team, serves as team captain, and has volunteered an amazing 319.5 hours of community service.  Matthew is a senior with a cumulative GPA of 3.806 and has participated in numerous community service activities including Relay for Life, New Albany Catholic Youth Ministries at Good Shepherd Church, New Albany Deanery Catholic Youth Ministries, St. Mary's New Albany, Holy Family Catholic Church, and has generously volunteered his time at Lodge Elementary, Evansville Middle, and Floyd Central High schools.
Kelly Lamarche is a member of the University of Evansville's Golf Team, the secretary of her sorority, a member of the student advisory committee for the Academic Honor Program, a member of the executive board for the Biological Science club, an Admissions Ambassador, and has completed three semesters of training for the University of Evansville Leadership Academy.  Kelly is a junior with a cumulative GPA of 3.922 and has participated in numerous community service activities including Race for the Cure, Relay for Life, Holly's House, Adopt a Highway, AIDS Research, Warrick County Humane Society, Web.com Golf Tournament, and the Just Read program at three elementary schools.
The student-athlete recipients will be honored on a plaque on the UE campus.
About the University of Evansville
The University of Evansville is a private, liberal arts-based university in Evansville, Indiana, with a full-time undergraduate enrollment of approximately 2,300. UE's diverse student body represents 41 states and 54 countries. U.S. News & World Report recognizes UE as a top 10 master's-granting university in the Midwest, and third in the region for "Great Schools, Great Prices." For more information, please visit http://www.evansville.edu.
About Heritage Federal Credit Union
Heritage Federal Credit Union offers financial products and services to anyone who lives, works, worships or attends school in Vanderburgh or Warrick County, or has an immediate family member who does. 
Heritage Federal Credit Union is a community-chartered federal credit union with over $454 million in assets and serves more than 44,800 members, and operates seven branches in Vanderburgh and Warrick Counties in Southwestern Indiana.  More information regarding Heritage Federal Credit Union can be located at www.hfcu.info.

---