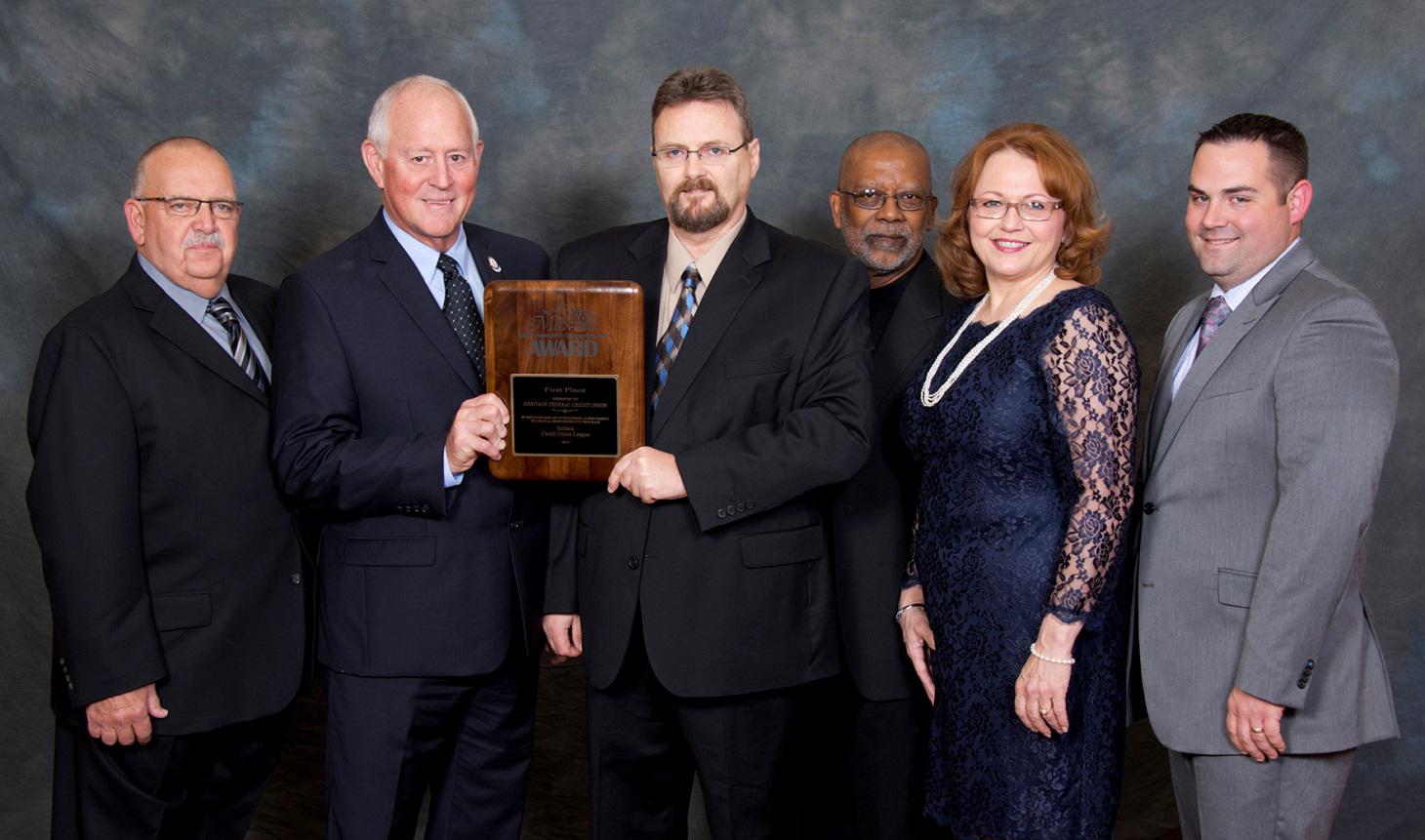 Heritage Federal Credit Union receives top honors with Dora Maxwell Award for Social Responsibility
HFCU Board Chairman Steve Crow, ICUL Chairman Dave Fleming, HFCU Marketing Communications Admin Rick Richmond, HFCU Supervisory Committee Member Darrell McKnight I, HFCU President & CEO Ruth Jenkins, HFCU Area Manager of Vanderburgh County Jeremey Davis
NEWBURGH, IN (November 14, 2014) — Heritage Federal Credit Union in Newburgh, Indiana, was recently honored with a Dora Maxwell Award, which recognizes outstanding community activities and projects in the credit union industry.
The Dora Maxwell Award was presented by the Indiana Credit Union League (ICUL), a trade association representing Indiana credit unions. Awards are given in each of 5 categories, according to asset size. Heritage Federal Credit Union took top honors with the Dora Maxwell Award in the $200-$500 million category for its entry detailing the Credit Union's partnership with Mesker Park Zoo & Botanic Garden in Evansville, IN to restore and improve the appearance of the Zoo Trams.
Through Heritage Federal Credit Union's continuing Mesker Park Zoo & Botanic Garden partnership, they were able to take the unadorned, white Zoo Trams and turn them into a bright, colorful, and fun way to travel around the zoo. Working closely with the Zoo, the HFCU Marketing team created a colorful design using animals that are featured at the zoo, along with vibrant tribal patterns and key action words placed on the Tram's support poles which included: interact, explore, imagine, observe, discover, and preserve.
The Heritage Zoo Tram
"Through our continued support of Mesker Park Zoo & Botanic Garden, we believe that we're clearly enhancing the value of our community," said Heritage Federal Credit Union President and CEO Ruth Jenkins. "The Zoo plays a key role in educating all of its visitors, and notably children, about the importance of preserving and protecting the world in which we live. The Heritage Zoo Tram project was intended to inspire, educate, and raise awareness of the Zoo's conservation efforts and the protection of endangered species. Heritage Federal Credit Union's "People Helping People" philosophy puts great emphasis on giving back to our local communities with donations and sponsorships to worthwhile organizations such as Mesker Park Zoo & Botanic Garden."
Amos Morris, Mesker Park Zoo & Botanic Garden Director states, "The partnership with Heritage Federal Credit Union has added a tapestry of color to our once mono colored tram.  It demonstrates an awesome way for businesses to highlight their partnership and commitment with the Zoo to the visitors; it has been a win-win for both organizations and the community."
Dora Maxwell was a pioneer in the credit union movement, elected to the first Indiana Credit Union League board of directors in 1921. Maxwell was also employed as one of the original organizers of the Credit Union National Association (CUNA), and signed the original constitution of CUNA. In addition to organizing hundreds of credit unions, Dora Maxwell developed volunteer organizer clubs and worked with several organizations to help improve the living standards of the poor and needy.
About Heritage Federal Credit Union
Heritage Federal Credit Union offers financial products and services to anyone who lives, works, worships or attends school in Vanderburgh or Warrick County, or has an immediate family member who does.
Heritage Federal Credit Union is a community-chartered Federal credit union with over $464 million in assets and serves more than 46,488 members, and operates seven branches in Vanderburgh and Warrick Counties in Southwestern Indiana. More information regarding Heritage Federal Credit Union can be located at www.hfcu.info
About Mesker Park Zoo & Botanic Garden
Mesker Park Zoo & Botanic Garden's mission is to foster the preservation of the Earth's diverse species and living systems through an active role in education and conservation in our regional and professional community. We will forge connections between people and the natural world by providing quality experiences that promote understanding and celebrate the rich tapestry of life. Forging Connections Between People and the Natural World.
Situated on 45-scenic acres of rolling hills on Evansville's northwest side, Mesker Park Zoo & Botanic Garden is home to over 700 animals from around the globe.  While visiting, you will navigate the Zoo's geographically grouped and themed regions including South America, North America, Africa, Asia, and Australia.
About the ICUL
The Indiana Credit Union League is a trade association representing Indiana credit unions. The League employs more than 100 employees, and strives to provide credit unions with consultation, legislative support, marketing services, public relations, operational and technical assistance, education and training, and fee-based services. For more information, visit www.icul.org.
---