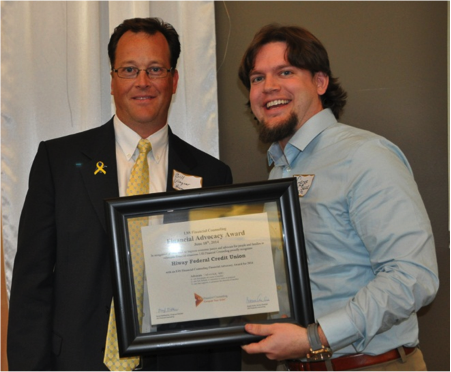 Highway Federal Credit Union receives financial advocacy award from LSS Financial Counseling
ST. PAUL, MN (June 20, 2014) — Hiway Federal Credit Union (Hiway) was presented with the LSS Financial Advocacy Award at their annual awards recognition on Wednesday, June 18.
Hiway has partnered with LSS Financial Counseling since 2007. Since inception of the partnership, together they have provided over 100 financial education workshops reaching more than 2,000 individuals in their workplaces.
"Hiway's Business Development Team organizes "lunch-and-learn" personal finance workshops at employer settings, ranging from the Minnesota Department of Transportation (MnDOT), the VA, Normandale Community College and BKBM Engineers to Minnesota State Colleges and Universities' (MNSCU) annual conference and the Slice of Spring each June for state employees," said Darryl Dahlheimer, LSS Program Director. "Their tireless work providing these events to local employers has made an impact on our community and pushes forward the cause of financial literacy."
"We are honored to receive the Financial Advocacy Award from LSS," said Bill Wagner, Hiway's AVP of Business Development. "Our mission at Hiway is to provide financial success on the road of life and financial education plays a very important role in supporting that vision. In addition to the partnership which provides financial education sessions to our members, Hiway members also have access to six free, confidential counseling sessions through LSS each year. The counseling sessions assist members with budgeting, handling student loans and college costs, housing services and managing their credit score."
Hiway is committed to improving the financial well-being of their members and look forward to a continued successful relationship with LSS Financial Counseling.
ABOUT HIWAY FEDERAL CREDIT UNION      
Hiway Federal Credit Union was founded in 1931 to serve the employees of the Minnesota Highway Department. Today, Hiway serves over 61,000 members in Minnesota and around the country, registers $950 million in assets and welcomes new membership from government employees, Minnesota's Military, select employee groups, organizations and businesses. Hiway prides itself on exceptional member service, and offers its members lower loan rates, higher savings rates and fewer and lower fees. 
---