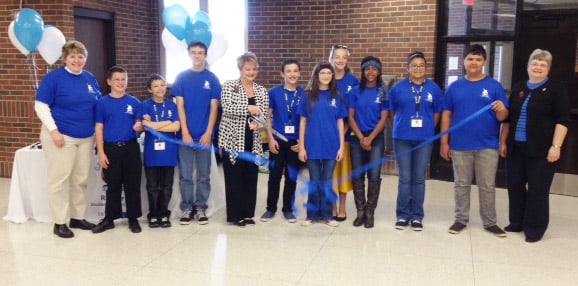 Honor Credit Union brings Ranger Student Credit Union to Cassopolis
DOWAGIAC, MI (October 10, 2014) – Honor Credit Union is continuing the student credit union movement in Cassopolis, Michigan!  Ranger SCU is the student credit union at Ross Beatty Junior/Senior High School within Cassopolis Public Schools.  Ranger SCU celebrated its grand opening with a ribbon cutting, cake, and refreshments on Thursday October 9, 2014.
Ranger SCU marks Honor's fourteenth student credit union, and the third in a junior/senior high school.  Ranger SCU will bring the excitement of saving to Ross Beatty Junior/Senior High School, and will be ran by the eighth grade students with the supervision and support of Honor's Dowagiac branch team.  With rewards for making deposits, students will experience first hand how valuable saving is at any age.  Working with Honor's Dowagaic branch as instrumental pieces in the organization of Ranger SCU has been teacher Kelly Hargrove and Cassopolis Superintendent Tracy Hertsel.  Promoting financial literacy and valuable life skills, Ranger SCU will be open to students for deposits every other Thursday during lunch.
"We are thrilled to be partnering with Ross Beatty Junior/Senior High School to open Ranger SCU," comments Dowagiac branch manager Janie Reifenberg.  "To be able to show this community and school system the value that student credit unions are capable of offering students is so rewarding!"
Honor Credit Union is proud to serve more than 51,000 members across the State of Michigan.  Providing solutions for financial success and giving back to the communities they serve remain the driving forces behind Honor Credit Union.  For more information call 800.442.2800, or visit www.honorcu.com
---