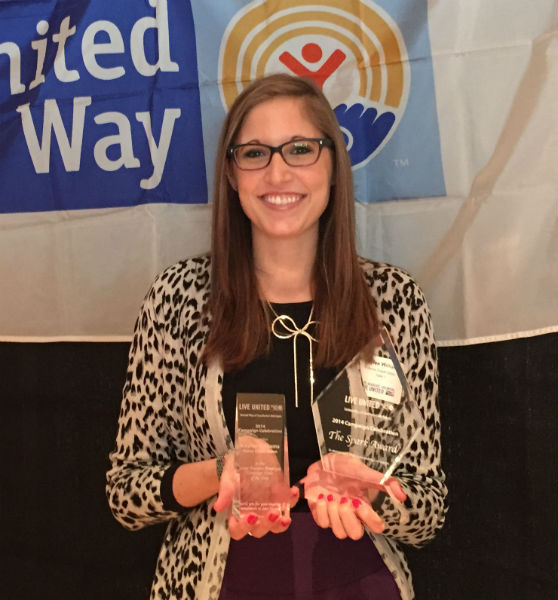 Honor Credit Union celebrates award winning 2014 United Way Campaign
SAINT JOSEPH, MI (February 27, 2015) — In recognition of an incredibly successful corporate United Way campaign, Honor Credit Union has received The Spark Award from United Way of Southwest Michigan. Honor Credit Union's Public Relations Coordinator and employee campaign chair, Kaylee Williams, led Honor's corporate campaign and was also awarded the Large Business Employee Campaign Chair of the Year.
Honor Credit Union is proud to have contributed to United Way's record setting 2014 campaign. Not only did United Way exceed their overall campaign goal, but Honor Credit Union also surpassed their corporate campaign goal by 5% with a campaign total of almost $22,000! In recognition of Honor Credit Union's own record breaking corporate campaign and internal participation, Honor received The Spark Award.
Williams took the lead on Honor Credit Union's United Way campaign in 2014, and assisted in organizing the campaigns as Honor took on the challenge of being a United Way Pacesetter. Utilizing a variety of fundraising methods to get the Honor team excited and involved, Honor's campaign spread across all 16 of their branch locations. The Honor team responded passionately, as they do with all of their community involvement initiatives. In recognition of the campaign organization and success, Williams was awarded the Large Business Employee Campaign Chair of the Year.
"The good that United Way is able to do in our local communities is amazing," commented Williams. "To be able to directly impact the communities that we live and work in through Honor's corporate United Way campaign is so rewarding."
Honor Credit Union is proud to serve more than 55,000 members across the State of Michigan. Providing solutions for financial success and giving back to the communities they serve remain the driving forces behind Honor Credit Union. For more information call 800.442.2800, or visit www.honorcu.com
---