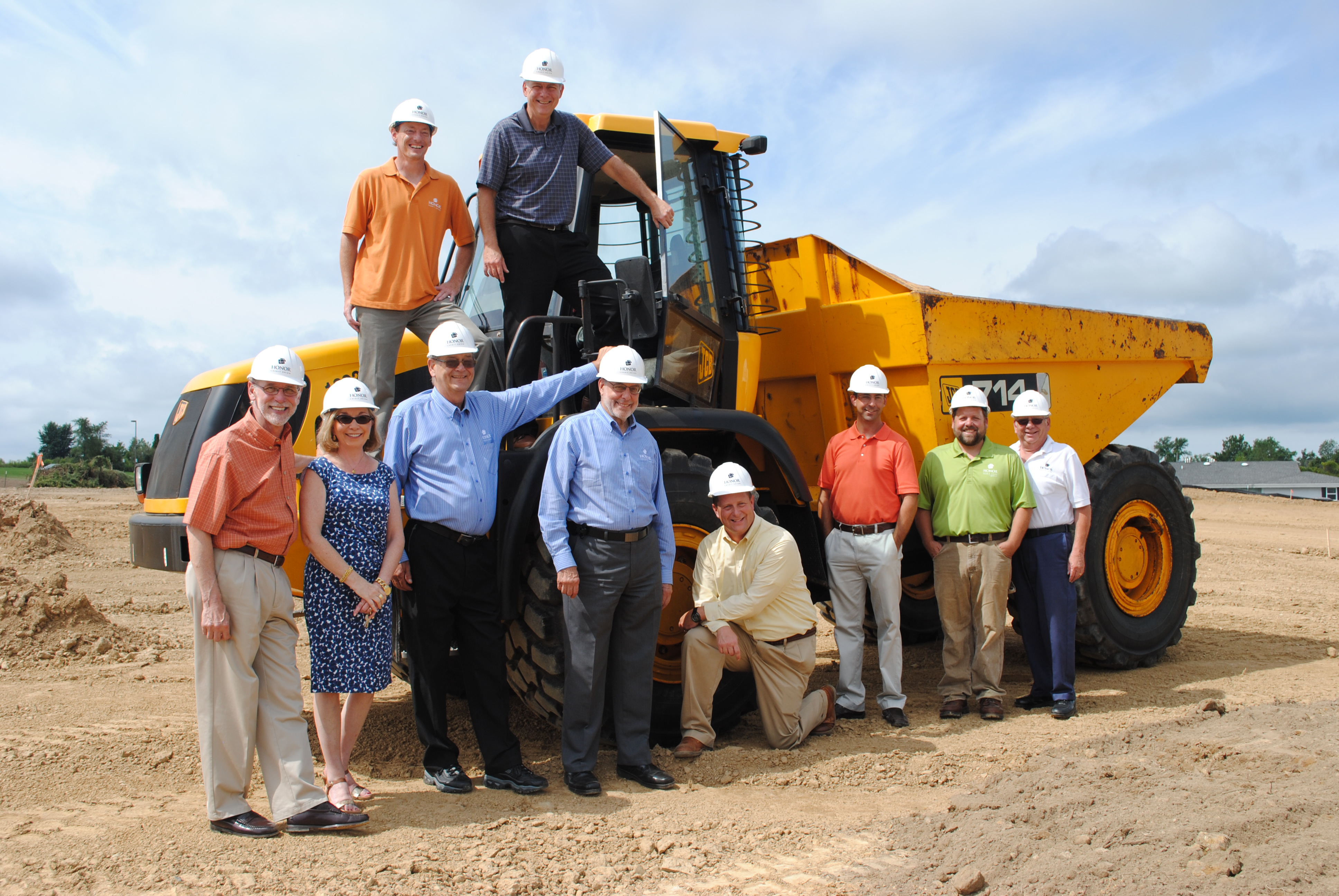 Honor Credit Union operations center one shovel closer to complete
BERRIEN SPRINGS, MI  (August 22, 2014) — Honor Credit Union is excited to have officially broken ground on its highly anticipated operations center in Berrien Springs Friday August 22. The new location in Berrien Springs at 8385 Edgewood Road, is just north of the M-139 highway exit off of US-31 and is being built to unify Honor's entire support team, providing an even higher level of service to members and more efficiency for the organization through centralized support of the physical offices and delivery of service through technology.
"Our highest priority continues to be the financial solutions and member service we are able to provide," comments Scott McFarland, CEO of Honor Credit Union.  "Giving the incredible Honor team the resources they need to provide solutions for financial success to the State of Michigan is important and that is what our operations center is going to do."
The operations center is anticipated to be complete by the fall of 2015, and will encompass approximately 37,000 square feet on more than six acres of land. The selected Berrien Springs property site provides a centralized location and easy access to the highway. This increase in space will give Honor Credit Union the ability to better support the retail branch network, new technology, and leverage efficiencies to the communities and members it serves. Honor is working with EC Moore of Berrien County and Collective Office for the design/build work on the project. The existing Saint Joseph retail branch will remain in place and will receive updates of its own once the operations center is complete.  The existing Berrien Springs branch will also remain and will continue to be the retail location for Berrien Springs.
Honor Credit Union is proud to serve more than 51,000 members across the State of Michigan.  Providing solutions for financial success and giving back to the communities they serve remain the driving forces behind Honor Credit Union.  For more information call 800.442.2800, or visit www.honorcu.com
---